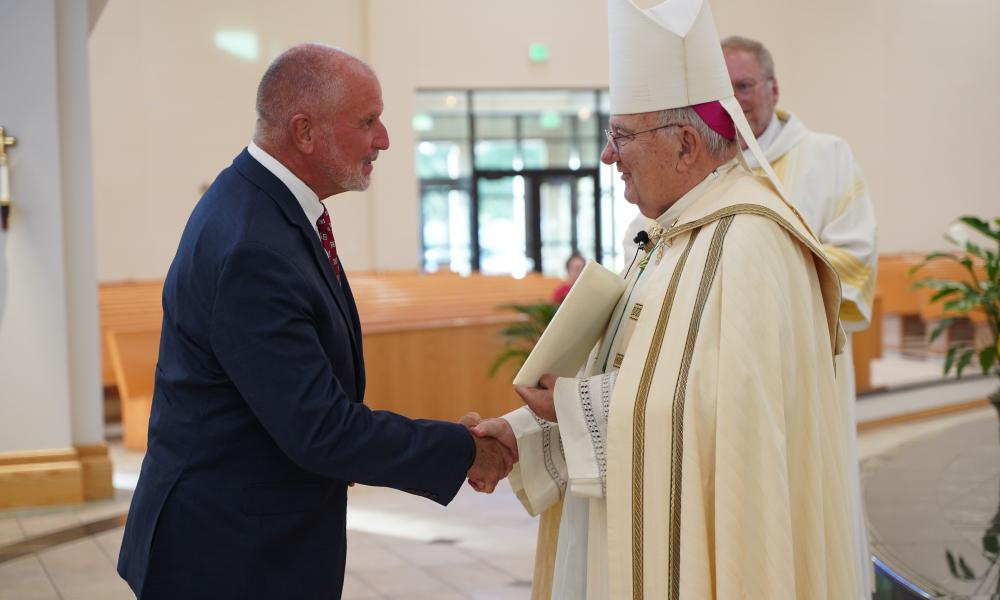 ---
"A Light in the Darkness"
Nine new ministry leaders are commissioned
In a prayer service at the Cathedral of St. Jude the Apostle on June 21, 2022, Bishop Emeritus Robert N. Lynch presented 11 individuals with a Certificate in Lay Leadership Ministry. Bishop Lynch, substituting for Bishop Gregory Parkes, commissioned each student to serve in ministry leadership in parishes throughout the diocese.
"This is a very special moment," Bishop Lynch said in his remarks to the commissioning class. "Your faith is your life. You are going to share your faith and be a light in the darkness for many people."
Bishop Lynch continued, mentioning the many gifts and talents the students have brought to the Church during their time at the Lay Pastoral Ministry Institute (LPMI).
"It's so good that you signed up," Bishop Lynch said. "One of the gifts that you all have given is generosity and a willingness to share. Another talent you bring is the reality of daily living for Christ. Thirdly, you bring your own sense of faith, your love for the Church, your willingness to put your trust in Jesus Christ and be nourished by Him through the Sacraments of the church. The bedrock of every gift is faith."
The 2022 commissioning class represents nine parishes from around our diocese. To receive the certificate and be commissioned, the participants completed one year of discernment and three years of academic and spiritual preparation. In addition to the time spent in class, in the second year of formation participants spend 20 hours of Apprenticeship observation in a ministry outside of their parish. In the third year, they initiate or enhance that ministry in their home parish as a Practicum. Some of the ministries that this class has been involved with include youth ministry, parent and adult faith formation, homeless outreach, Altar Server training, vocations awareness, food pantry services, small faith community sharing, and prayer teams.
At the end of the service, Helen Crowley, one of the graduating students, thanked Bishop Parkes for his continued support and "all those who have contributed to four years of growth and experience." On behalf of the class, Helen also presented a generous gift to the LPMI "for students who are currently studying and for those to join the Institute in years to come."
"I was just commissioned as an LPMI minister," said Helen. "We've spent a lot of time studying, and I'm just so grateful to finally be here. I've learned and grown so much – I'm retired, and I figured I was done with things, but my life is starting all over again because of this phenomenal program."
Those commissioned and their parishes were:
Robert Birkenstock (St. Mary Our Lady of Grace Parish)
Cynthia Burnette (Sacred Heart Parish, Tampa)
Helen Crowley (Espiritu Santo Parish)
Jill Ferguson (St. Mark the Evangelist)
Joan Johnson (Light of Christ)
Richard Lewis (Espiritu Santo)
Sr. Huong Nguyen (Holy Martyrs of Vietnam)
Frank Pidala (St. Timothy)
Brian Riley (Espiritu Santo)
Katia Bunn Scoz (St. Paul, Tampa)
Denisse Vargas (Incarnation)
To view photos of the Commissioning ceremony, place your computer mouse over the image below and click on the arrow.