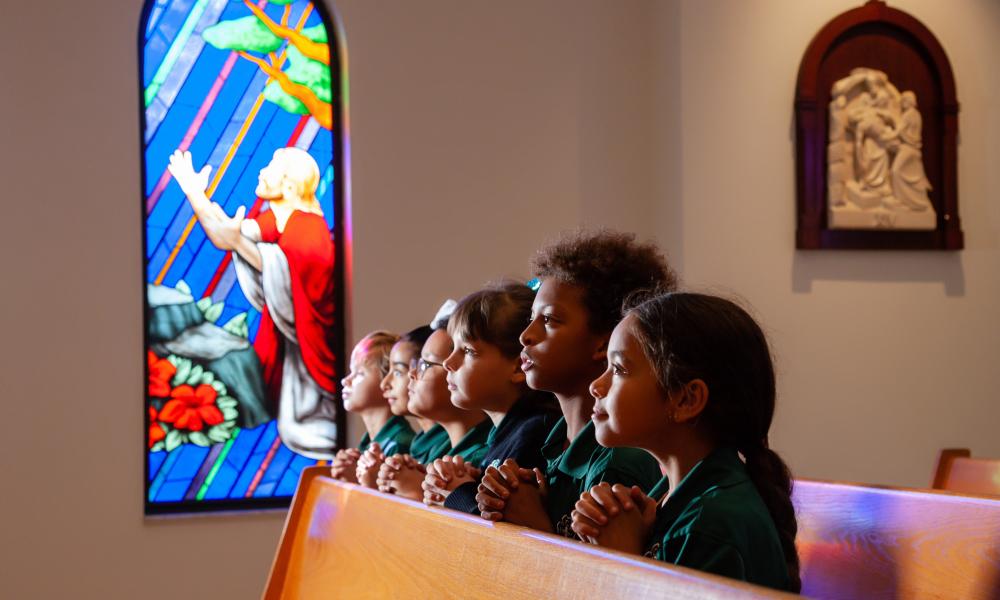 ---
"The Joy of Sharing Our Faith" – Celebrating Catholic Schools
Catholic Schools are being celebrated for their, faith, excellence and service, during National Catholic Schools Week. The annual celebration starts the last Sunday in January and runs from January 30th – February 5th this year.
"I'm very proud of our Catholic schools, and certainly Catholic Schools Week is an opportunity each year for us to celebrate what I would call the gift and the blessing of Catholic education," said Bishop Gregory Parkes.
The observance began in 1974 and seeks to highlight successes of Catholic schools in education and in the community. Schools around the diocese will observe the week with special events focusing on the significance Catholic education has on students, the Church and our local communities.
"Catholic Schools Week means we get to focus on the joy of sharing our faith with each other. We will be holding a Religion Bee, sharing prayer intentions, writing thank you letters to everyone who helps make each day special, and joining with our church buddies to create a beaded bracelet with religious meaning so we are reminded of our faith even when we are not at school," said Marrie McLaughlin principal of Incarnation Catholic School in Tampa.
There are 47 Catholic Schools and Early Childhood Centers in the Diocese of St. Petersburg that provide Catholic education to over 12-thousand students in the counties of Pinellas, Hillsborough, Pasco, Hernando, and Citrus. While proudly Catholic, they also welcome students of all faiths.
"Parents want to send their children to a Catholic school because the formation they receive there is in keeping with their values as a family and the values of our Catholic faith. They're not just going to get an education, they're going to receive a formation that's going to change their life. It's going to transform them. Most importantly, it's going to lead them to become a better disciple of Jesus Christ," said Chris Pastura, Superintendent of Catholic Schools for the Diocese of St. Petersburg.
Academic excellence is also an important aspect of Catholic education. In 2021, 8th graders in Catholic schools in the Diocese of St. Petersburg, on average, scored in the 75th percentile in reading and the 74th percentile in math as measured by national standardized tests. This means the average student is performing better than 75% of their peers across the country.
"We are creating lifelong faithful learners who are confident in prayers, safe in their trust in God, and comfortable in any Catholic church for Mass," added McLaughlin.
---
To learn more about a Catholic school or center near you, visit: https://www.dosp.org/schools/
Individual donations to the Catholic Ministry Appeal make the ministry of the Office of Catholic Schools possible, serving thousands each year.
---
Photo Caption: Courtesy photos from Incarnation Catholic School, Tampa.