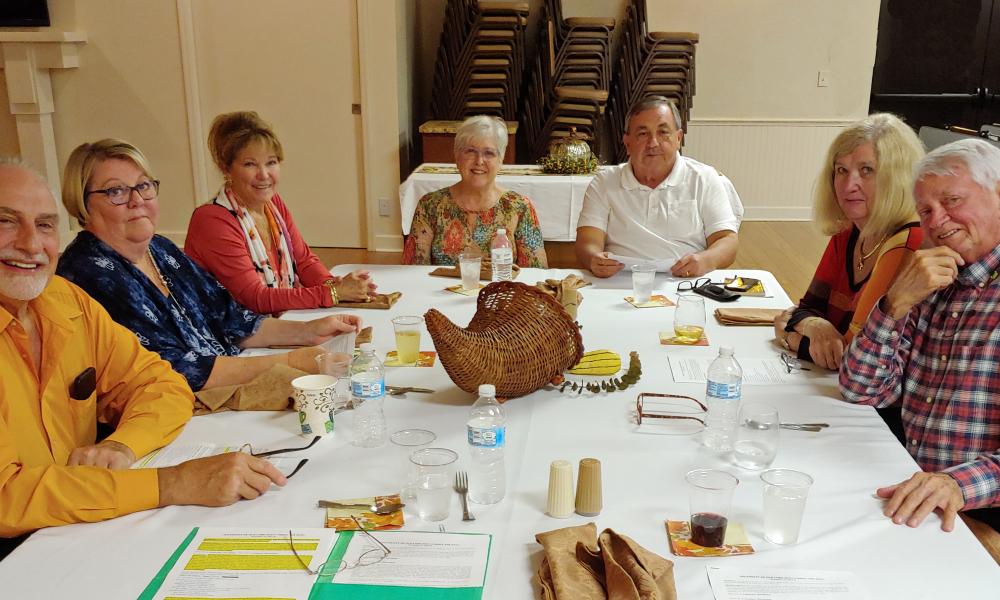 ---
Ingredients for New Ministry Include Food, Fellowship and Faith
There is a "cool" new ministry at Saint Mary Our Lady of Grace Catholic Church in downtown Saint Petersburg. It's called Culinarians of Our Lady, or COOL for short. It was born out of the isolation and desire for togetherness parishioners experienced during the height of the pandemic.
The ministry was conceptualized by parishioner Bob Birkenstock who saw an opportunity to rebuild community in his parish following months of ministry inactivity. Together with Pastor Father Damian Amantia, TOR, and parish faith formation leaders, Birkenstock developed an innovative program designed to help build community among parishioners.
"The whole idea here is to initiate communication, faith sharing and community within the parish, in the context of a dinner party surrounded by scripture discussions of the upcoming Sunday Mass readings," said Birkenstock.
The group is comprised of mostly married couples who enjoy preparing and serving good food and spiritual hospitality. They gather monthly, on a Friday evening to break bread together with pot-luck themed dinners. The theme changes every month and menu crafting rotates among the group members. On the menu for their first in person meeting in November was Turkey Lattice Pie as the main course.
"We're fun deprived these days. We're socially deprived and isolated. So, it is such a great idea. And then to add faith sharing component, is brilliant because that is how we grow in our faith and grow closer to one another in Christ," said Claudia McIvor, Director of Faith formation.
Birkenstock says COOL is a step in the right direction and is helping build back participation in parish ministry. He hopes to use this community-building model to develop other ministries which will also be tailormade to the specific needs of parents, children or any other group in the congregation.
"We hope we can use the same format and we can morph into and expand to three separate groups in the same facilities," said Birkenstock.
Faith formation leaders say they're always on the lookout for what parishioners need to stay connected to each other and the Church.
"This was a great idea because it was thinking outside the box and not using a canned program but rather putting together something customized for our parish," said McIvor "Trust your people and encourage them. Empower them and support them to do these out-of-the-box kinds of ministries. It may cause new life in your parish if the new ministry works"
---
If you would like more information on the Culinarians of Our Lady email Bob at: birkybob@gmail.com