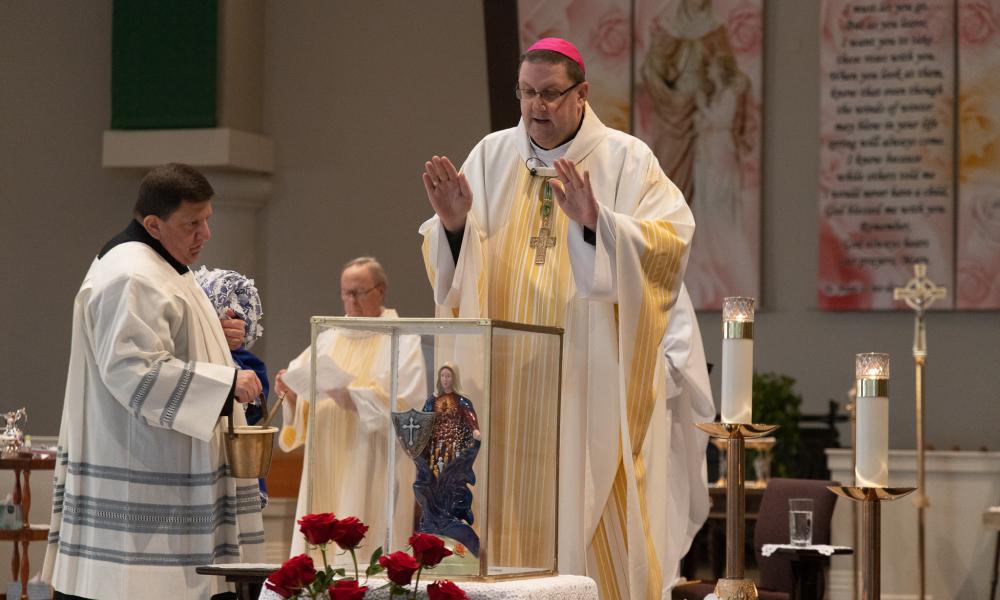 ---
Image of Our Lady Blessed by Bishop Parkes
October 1, 2021 was a day of joy and celebration as Bishop Gregory Parkes blessed an image of Our Lady at the One Mother One Family retreat presented by the International Consecrated Marian Society and held at St. Anne Catholic Church in Ruskin. The retreat began with a Rosary Procession led by Father John McEvoy with the statue of Our Lady of Fatima and prayers recited in English, Igbo, Spanish, Portuguese, and Tagalog representing the multicultural Church under the guidance of our Blessed Mother.
As Mass began, Bishop Parkes blessed the statue of Our Lady and encouraged participants to be open to what God was revealing to them through our Blessed Mother. October 1st was also the Memorial of St. Thérèse of Lisieux and the bishop spoke of the saint's strong devotion to the Blessed Virgin Mary. Quoting St. Thérèse the bishop said, "Do not be afraid of loving the Blessed Virgin too much. You can never love her enough. And Jesus will be very happy, because the Blessed Virgin is His Mother."
The retreat was a call to Catholics to fulfill the message of Fatima through Consecration to Jesus through the Immaculate Heart of Mary and to strengthen First Saturday Devotion in preparation for their spiritual journey to eternal life. Our Lady of Fatima came to three shepherds to warn people about worldly unrest, at that time especially about Russia. Today, Our Lady reminds us about the message of Fatima, to protect us from the chaos in the world and to prepare us for what is to come. Devotion to Our Lady helps us live out a life of consecration and to convert souls for Jesus through Mother Mary.
Father John McEvoy explained the symbolism in the image of Our Lady, which promotes praying the Holy Rosary and being clothed in the Scapular, symbols of our weapons against the schemes of the devil. The image also recalls the Cross as the ultimate victory over death and a sign that Christ is always at the center of everything we do. In Mary's mantle, souls seek protection from evil and refuge in her Immaculate Heart which leads us to Jesus Christ, our Lord and Savior.
The Marian movement aims to fulfill the message of Fatima, Consecration to Jesus through the Immaculate Heart of Mary and to strengthen the First Saturday Devotion. The movement aims to teach and guide consecrated men and women how to live after consecration and grow spiritually in the Catholic faith as they grow closer to Jesus through the Blessed Virgin Mary.
CelinaMary Okpaleke said, "Mary wants to unify, to give hope, and to protect the children of God. Our mission is to create ongoing consecration awareness, First Saturday Devotion, and education on how to maintain and live a life of holiness after consecration by applying Our Blessed Mother's virtues in practical everyday living at home, work, and everywhere."
CelinaMary believes that consecration without action that leads us to holiness is dead, just like faith without works is dead.
For more information about Consecration to Jesus through the Immaculate Heart of Mary, visit. http://www.mariansociety.org.
You are invited to start a Marian Consecration Ministry and bring the statue of Our Lady to your parish. For information, email lisa@mariansociety.org.