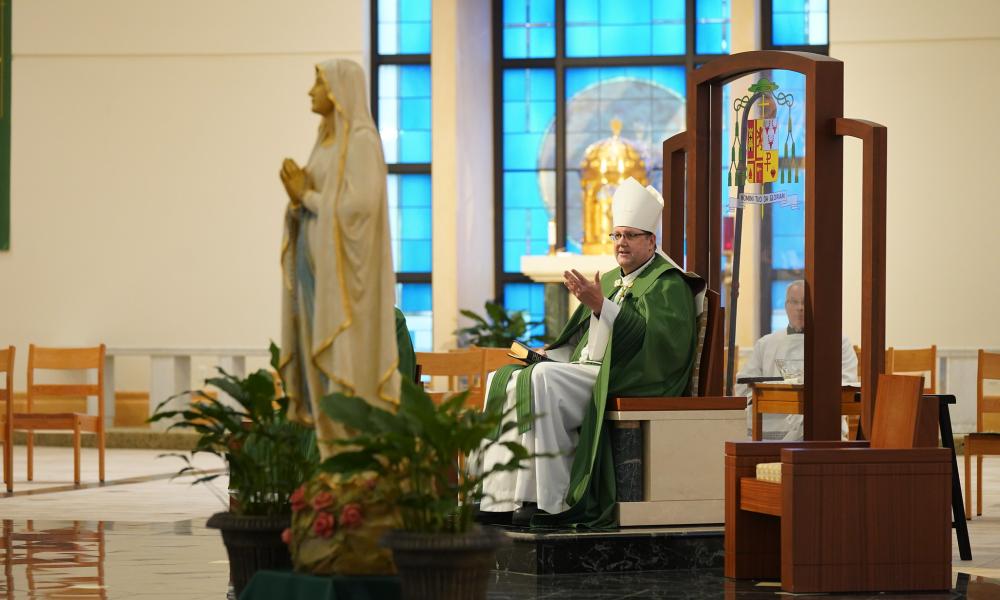 ---
"I'm Very Thankful that I Have Been Called to Shepherd this Beautiful Diocese"
Dear Brothers and Sisters in Christ,
Thanksgiving is a time for us to recall the blessings of our lives, and to give thanks to God for His many gifts. As your bishop, I'm very thankful that I have been called to shepherd this beautiful Diocese of St. Petersburg. As I travel throughout our Diocese, I see the many ways that God has blessed us and how we are striving to Courageously Live the Gospel. Thank you for your stewardship and all you do to serve the Lord and others in your parish and community!
This year, I'm also grateful for the many prayers and notes of support that I received prior to and after my surgery this past summer. They were a great source of strength and hope during my time of recovery and rehabilitation. I'm pleased to say that I'm doing very well and have returned to full-time ministry.
Finally, I'm grateful for the gift of the Eucharist that we receive when we come to Mass. The word "Eucharist" means "thanksgiving." What a blessing to be able to receive the Lord – body, blood, soul, and divinity – in the Eucharist! This spiritual food strengthens us in our daily lives and on our journey to the Kingdom.
This year is the first year of the National Eucharistic Revival, a prayerful initiative to renew devotion and belief in the Real Presence of Jesus in the Eucharist. I pray that our National Eucharistic Revival will provide an opportunity for all of us to reflect more deeply on the importance of the Eucharist in our lives and the life of the Church. To learn more about this initiative, I invite you to visit www.dosp.org/revival.
Please know that you and your loved ones will be remembered in my prayers in a special way on Thanksgiving Day. Happy Thanksgiving, and may God bless you!
Sincerely yours in Christ,
Bishop Gregory Parkes