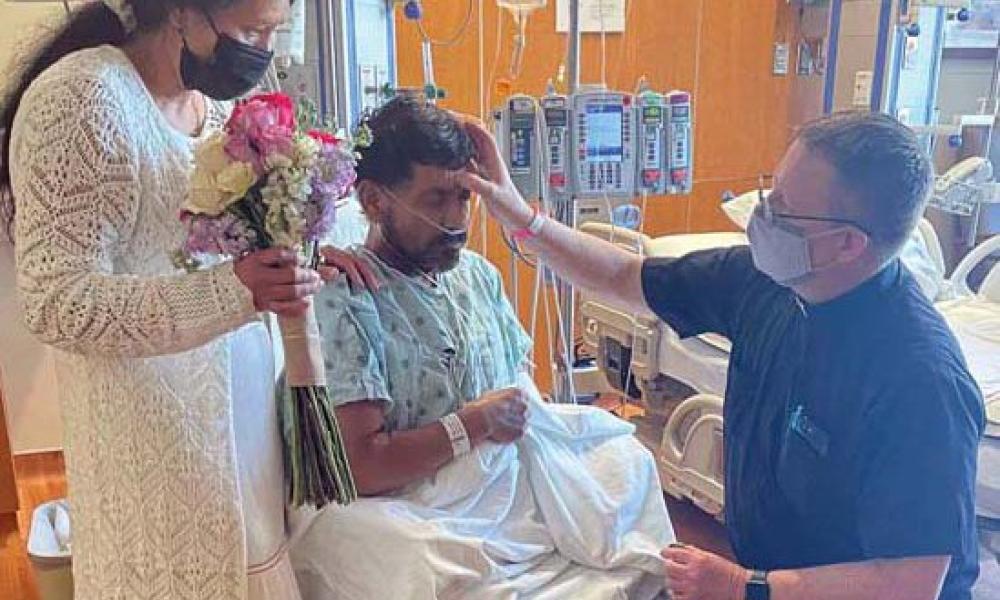 ---
Husband and Wife Receive the Sacrament of Marriage in a Hospital Room
(CNS) -- Even as the public has grown weary of the pandemic, Catholic chaplains at hospitals continue to work hard ministering to patients with COVID-19 and those battling other illnesses. Hospitals themselves are struggling to meet the needs of patients amid staff shortages.
"Some hospitals have whole units shut down because their staff is ill. The ones still working tell us that they feel forgotten now that the public has tired of dealing with COVID-19," said lay chaplain Nannette Coons.
In December at Houston Methodist Hospital, despite challenges of pandemic restrictions, Coons was among several people who were able to do something special for a family battling a pancreatic cancer diagnosis. After many tries, permission for a special ceremony was granted.
Tomas Gonzalez, in his hospital gown, and wife Maria Angeles, dressed in white and carrying a bouquet of red and white roses, gazed at Father Philip Wilhite, their pastor from Sacred Heart Catholic Church in Conroe, Texas, as he knelt before them in the hospital room on Christmas Day.
The couple's 14-year-old daughter, Nataly, and a family friend, Francisca Cabello, witnessed the ceremony as Father Wilhite helped to convalidate the couple's marriage as a sacrament.
"I played a very small part in it. Tomas and Angeles have been together for 15 years and wanted to become closer to God through the sacraments, but were never married by the church," Father Wilhite told the Texas Catholic Herald, newspaper of the Archdiocese of Galveston-Houston.
---
Photo Caption: Father Philip Wilhite, pastor of Sacred Heart Catholic Church in Conroe, Texas, kneels before Tomas Gonzalez and Maria Angeles at Houston Methodist Hospital Dec. 25, 2021, to give Gonzalez an anointing of healing before convalidating their marriage.