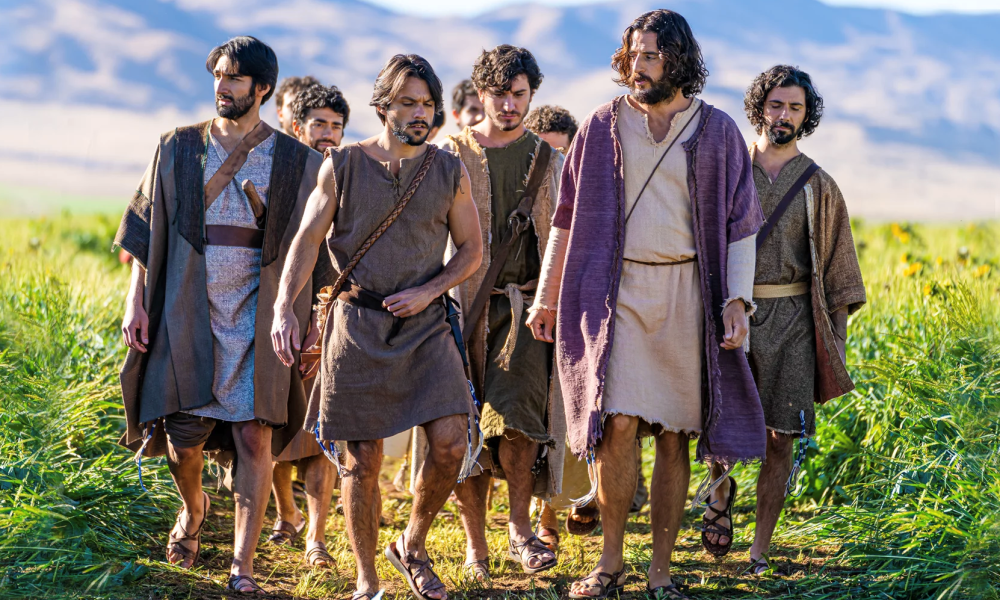 Image from "The Chosen," directed by Dallas Jenkins
---
How 'The Chosen' Changed My Life and Deepened my Catholic Faith
August 25, 2023 | If you haven't seen "The Chosen," I'm here to recommend that you do. It's easily the best Christian-based television show to date. It has changed my life forever. I believe it can do the same for you.
"The Chosen" depicts the life and ministry of Jesus Christ (Jonathan Roumie) in such an emotionally riveting way that it's easy to watch multiple episodes in a row, also known as binging. I often find myself sitting in awe as the final credits roll by.
Roumie, a devout Catholic, portrays the Messiah in phenomenal fashion. The well-spoken actor is "merciful and gracious, slow to anger, abounding in steadfast love," as David describes in Psalm 103, yet forthright and unwavering in the face of the threatening Pharisees, Sadducees and Romans.
Every scene packs a punch, and you'll quickly relate to the humanized followers of Jesus,including Simon Peter (Shahar Isaac), Matthew (Paras Patel), Mary Magdalene (Elizabeth Tabish) and even Roman centurion Gaius (Kirk B.R. Woller). I've found comfort in seeing that even Jesus' closest disciples struggled with the same issues I face 2,000 years later.
But I wasn't always a passionate "Chosen" fan.
When my older sister first introduced the show to my family in 2020, I was a stubborn 19-year-old lost in secular media. I was much more interested in destroying my soul with the poison that society promotes to young people. But as a result of being locked inside the house during the pandemic, I didn't have much of a choice, so I decided to view the program.
I found myself in tears by the end of the first episode, and the rest was history. Not only was the storyline extremely powerful, but the production was like nothing I'd ever seen before in faith-based media. I was instantly hooked and had to watch more — and tell my friends.
If you know me, then you know I'm not a dramatic person. So, when I say that this show changed my life and deepened my Catholic faith, I truly mean it. I've since developed a strongerrelationship with my Savior, Jesus Christ, and accepted his unconditional love for me.
As a visual learner, I now have faces to correlate with my favorite Biblical figures and scenes to associate with the incredible stories I've read countless times in the Gospels. This has made reading the Bible, praying, going to Mass and receiving the Eucharist much more intimate for me.
I can't stress enough the importance of replacing secular media with uplifting, faith-based content. I've found this not only benefits my spiritual health, but my mental and physical too.
Start with "The Chosen" and never look back.
*Disclaimer – "The Chosen" is a dramatized and embellished telling of the life of Jesus Christ. Not all of its content aligns directly with Scripture and the beliefs of the Catholic Church.*
All three seasons of "The Chosen" can be streamed for free on The Chosen app for iOS or Android systems and AngelStudios.com, as well as some seasons on subscription platforms such as Netflix, Peacock, Amazon Prime, Apple TV and more.
Filming of season 4 began in March 2023. The series was granted a waiver to continue filming during the 2023 SAG-AFTRA strike.
Max Steele is a freelance writer in the Diocese of St. Petersburg.