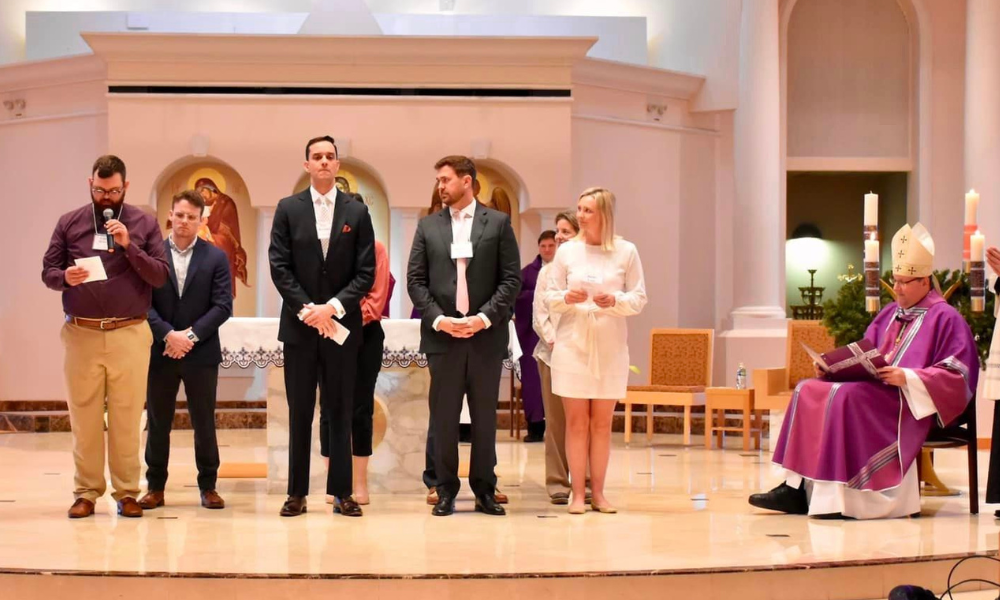 Cody Holton, first from left, Corey, Montana and Darby received First Holy Communion and were confirmed by Bishop Gregory Parkes during Mass December 11, 2022. 
Photo Credit: Jane Winstead
---
"God found me." Young Adult Reflects on Becoming Catholic
December 21, 2022 | Cody Holton, 27, believes Christmas this year will be different, now that he's a new Catholic who will be receiving Holy Communion at Mass.
"As we wait to celebrate the Lord's coming, I have, likewise, been waiting to receive the Lord for the first time in the Eucharist. It's been important to me to embrace this time of waiting, as the whole Church is also in the Advent season. I think I will feel much closer to Jesus and to my brother and sister Catholics. I'll truly be part of the mystical body of Christ this Christmas," said Holton.
Holton's journey to the Catholic Church follows a deep thirst for knowledge and truth. 
"I didn't believe in God. I had some friends and family going back to the Methodist Church, which raised a lot of questions within me. I'm also a part of a reading group, and many Catholics in that group had a great influence on me. They were intelligent, living out their faith, and explaining it all intellectually," said Cody. 
As a result, Holton picked up books like The Abolition of Man by C.S. Lewis and Plato's Republic.
"Socrates in Plato's Republic talking about 'the Good' was the straw that broke the camel's back. He says that the light of the sun touches everything, but it is also the reason for everything existing. He then calls the sun 'the Good' and says once you've seen 'the Good,' everything you do is influenced by it and you must live as if you've seen it. I realized he was talking about God. God had found me. He snuck up on me," said Holton.
Holton is a parishioner of St. Raphael's Catholic Church in Snell Isle. He and three other young adults (Darby, Corey, and Montana) received their first Holy Communion and were confirmed by Bishop Gregory Parkes during Mass at the parish on December 11, 2022.
For Montana, the path to the Catholic Church began with his Protestant upbringing.  Being raised in a Christian home and having his faith further nurtured in fellowship through youth group, Montana knew the central role that family and community play in building a strong foundation for faith.  As a husband and a father to four, Montana took seriously his responsibility for his family's faith life.  God blesses us as we bless others, and through his support for his wife and children's Catholicism, Montana developed an appreciation for the depth and richness of the Church.  After discernment and study, he now fully joins his family and the parish in the celebration of the sacraments.
When Darby, who grew up with a loose affiliation with Christianity, was confronted with a near-fatal attack on her sister, the reality of evil in this world came into focus.  But just as darkness implies the existence of light, the possibility of evil requires the reality of good.  God's love and goodness were shown to Darby one morning when St. Raphael parishioner Addys noticed her on a walk, upset, and asked if she was okay.  Together, Addys and Darby visited St. Raphael, beginning a remarkable journey to faith.  Over the coming weeks and months, through prayer and a growing devotion to the Blessed Virgin Mary, Darby's outlook was transformed, as was the health of her sister.  From the precipice of death, Darby's sister began a slow and ongoing recovery, which recently saw her return to limited work.  Darby has entered the Church, and her family continues to engage and learn more about the faith as they support her.  And Darby is witnessing powerfully to her faith and to God's grace, as she pursues forgiveness toward those who harmed her sister.
Corey's professional experience in programming and policy afforded him a broad view of the world.  But contrasting with the breadth he saw and appreciated, Corey became increasingly aware of an absence of depth.  What began as small talk at a reception with a parishioner, Anne, developed into a deeper conversation about Catholicism, and then into an invitation to visit St. Raphael.  Corey was impressed by the faith and dynamism of the parish, as well as with the continuity and universality of the Church, her mission, and her teachings over time and across geographies.  He noted that many of the people whose ideas and principles he respected in the professional world were Catholic.  The intersection of a robust intellectual tradition with values that, when lived out, promote human flourishing – along with the welcoming attitude of Anne – brought Corey into the Church.
"It is good to be with you on this Gaudete Sunday, not only to celebrate the Eucharist but to welcome four new brothers and sisters into the full Communion of the Church. Appropriately we do so on this third Sunday of Advent - as Gaudete is a word that means 'rejoice.' We rejoice because the celebration of our Lord's birth is drawing near, we rejoice because His Second Coming in Glory is closer than it was yesterday, and we rejoice today at St. Raphael's for the gift and blessing of these new Catholics," said Bishop Parkes. 
Cody, Corey, Montana and Darby received First Holy Communion and were confirmed by Bishop Gregory Parkes during Mass December 11, 2022. Photo Credit: Jane Winstead