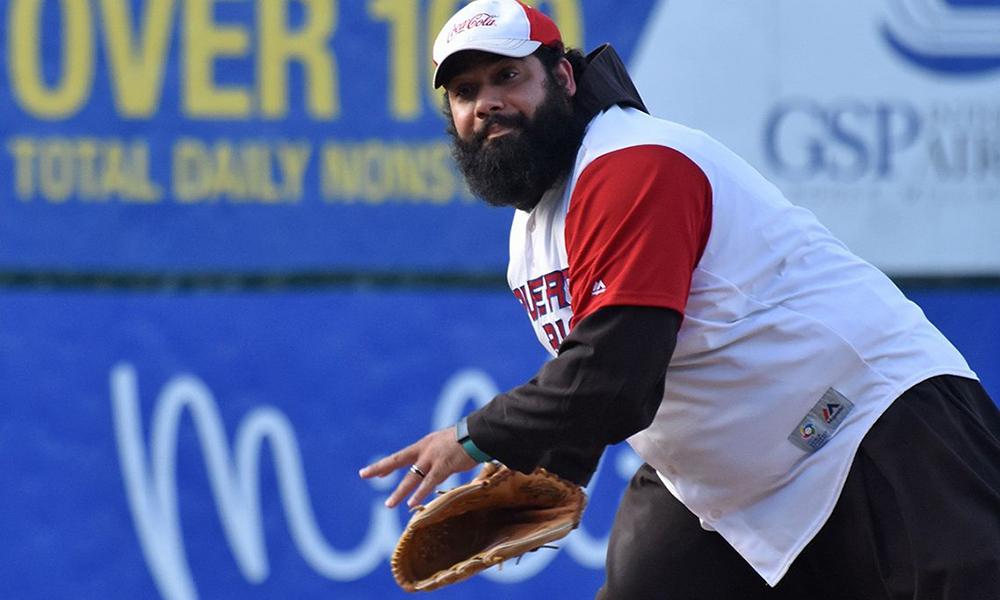 ---
Franciscan Friars to Visit all 30 Major League Baseball Stadiums on Evangelization Tour
Baseball season is in full swing and people around the country are going back to the ballparks following the pandemic shutdowns. That is where two Franciscan friars, Fathers Casey Cole and Roberto "Tito" Serrano, plan to evangelize to the masses.
They have set out on an 11-week pilgrimage to visit all 30 Major League Baseball ballparks, traveling more than 17,000 miles to meet people where they are and preach the Good News of Jesus Christ.
We learned more about their tour when they stopped in Tampa Bay to throw out the honorary first pitch at the Tampa Bay Rays game against the Miami Marlins on Tuesday, May 24th. 
Fr. Casey, how did you come up with the idea of this tour?
It's one part fulfillment of a childhood fantasy, and another part evangelization. We are Franciscan friars, and the first ones to be sent out two-by-two as official missionaries in our role. We've always gotten to the city streets, we've gone to where people are. We were encouraged in our formation to think about where that might be in the 21st century. Eight years ago, we had this idea; what about the big stadiums of our time? They're kind of cathedrals in a way. We can go to them to invite them to the other cathedrals.
Fr. Casey, the evangelization isn't just happening in the ballparks, what else are you doing? 
It's not just going to the baseball games, which is a great place to meet people and to evangelize. But, we're also stopping along the way at churches, soup kitchens and schools, so that we can evangelize the faithful in some ways, hopefully offering some of the people we meet an opportunity to meet us in a more prayerful context.
Fr. Tito, what impact do you hope this approach has?  
As great as it is that we get to come in and do this, we're also leaving in a couple of days. So, we need to tie them somewhere local, somewhere they can kind of get re-grounded.
Fr. Tito, what other stops will you be making in Tampa Bay? 
We're going to be stopping at a parish that our friars actually help manage and facilitate: Sacred Heart. It's going to be a little bit more casual than a formal talk. We are going to open and share some of our story, but then invite people to ask us questions. And we get to really know people and people get to know us in a conversational sort of way.
Fr. Casey, do you find that people come up to you, and talk to you at the games on their own, just by virtue of what you're wearing?
We're pretty familiar with this, even before this tour, that we are peculiar enough that people are curious. We like when people are curious, we understand why they wouldn't want to talk to us or feel uncomfortable, because maybe they feel like they're bothering us. But we welcome it all. We get a lot of, "Are you a Jedi?" or "Is this cosplay or something like that?" I never really find that annoying because it's at least a starter of a conversation.
 
Fr. Casey, how can people get updates on your tour? 
We're sharing it all. We have a YouTube channel, so I regularly post on the YouTube channel. Brother Tito appears on it every once in a while. We're doing a show this summer, where we're just going to take people along for the ride, where we sit down in the stadium, and we recap our highlights. But then, we also show some of the food we ate, some of the places we went, and some highlights from the games. 
To follow the Bleacher Brothers tour visit: https://www.youtube.com/c/BreakingInTheHabit 
---
Photo Caption: Franciscan Father Roberto "Tito" Serrano, who is assigned to Siena College in Loudonville, N.Y., is shown in this undated photo. 
Photo Credit: CNS photo/courtesy of Father Casey Cole via The Central Minnesota Catholic