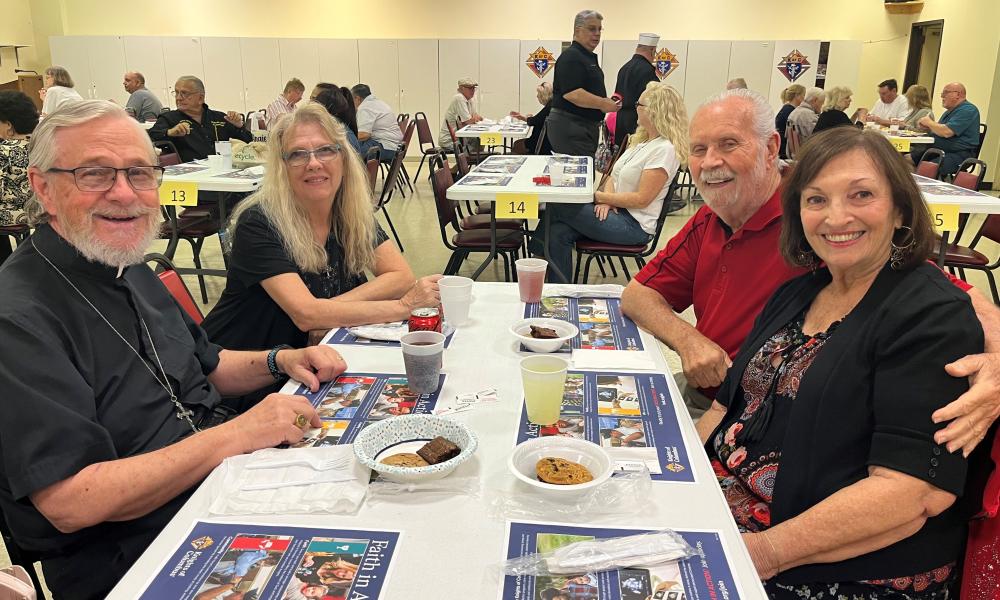 ---
Fish Fry Fridays Are in Full Swing
If you venture by a Catholic church on a Friday evening during Lent, chances are you're going to catch the aroma of hot oil and fish frying. Many Bay Area Catholic churches observe meatless Fridays by hosting a parish fish fry for their parish and local community. Usually, there is an opportunity to pray the Stations of the Cross in the church after the meal.  
"Emerging from COVID, people want to get out, they want to be social," said George Gano, Deputy Grand Knight of the Knights of Columbus at St. Thomas Aquinas Parish in New Port Richey. "Part of the Knights' job at any parish that we operate in is to serve at the leisure of the pastor; we're also his right-hand guys to help him create community." The Lenten fish fry helps to bring that community together. 
The typical menu for the fish fry meal is a generous plate of fried or baked fish, French fries, cole slaw, and a dessert. Some even go the extra mile to offer shrimp and clam chowder. Many parishes also offer pizza and macaroni and cheese as an alternative.    
Soup and salad, meatless Italian, or meat-free Mexican are also offered at various parishes during the first six Fridays of Lent. Parishes typically do not host Fish Fry events or meals on Good Friday.   
Many of the parishes that have Lenten dinner events donate the proceeds to a parish need or a community charity. For St. Thomas Aquinas, 75% of the proceeds at the end of Lent will be divided to assist various charities both in the parish and community.  
"We fund our youth because they're our next generation of Catholics," said Gano. "We have our own St. Vincent de Paul food pantry, so we help fund that. We also fund One Community Now which is a local community service organization in New Port Richey." They also support the West Pasco Pregnancy Center.   
Many families attend the weekly gathering, and not all are parishioners. Drew and Julie Wales attended the dinner at St. Thomas Aquinas along with friends Tom and Ann Moore. The Wales are not Catholic, and Drew is an Anglican priest. 
"It's nice to gather and have a meal with friends and be welcomed," said Drew Wales. 
The Knights of Columbus prepare, cook, and serve the meals at St. Thomas Aquinas, and at many other churches in the community. 
"We want to be the beacon for our families, our fellow parishioners, and our kids," said Gano. "When you say you're Catholic you just don't throw money in a basket. You roll up your sleeves and you get to work building the kingdom in your little area and when we all do that you achieve building the body of Christ."
Spirit FM has promoted the various parish fish fry events over the past decade.  A staff member will attend, play music and games, and judge the meal. Judging is based on taste, menu items, and the atmosphere or setting of the overall meal experience.  Scores are announced on Monday mornings during the Spirit FM Morning Show with Olivia.
---
Visit www.myspiritfm.com to find a listing of parishes participating in the Spirit FM Fish Fry World Tour and other Fish Frys in the area or call your local Catholic church to see if they're hosting a Fish Fry.