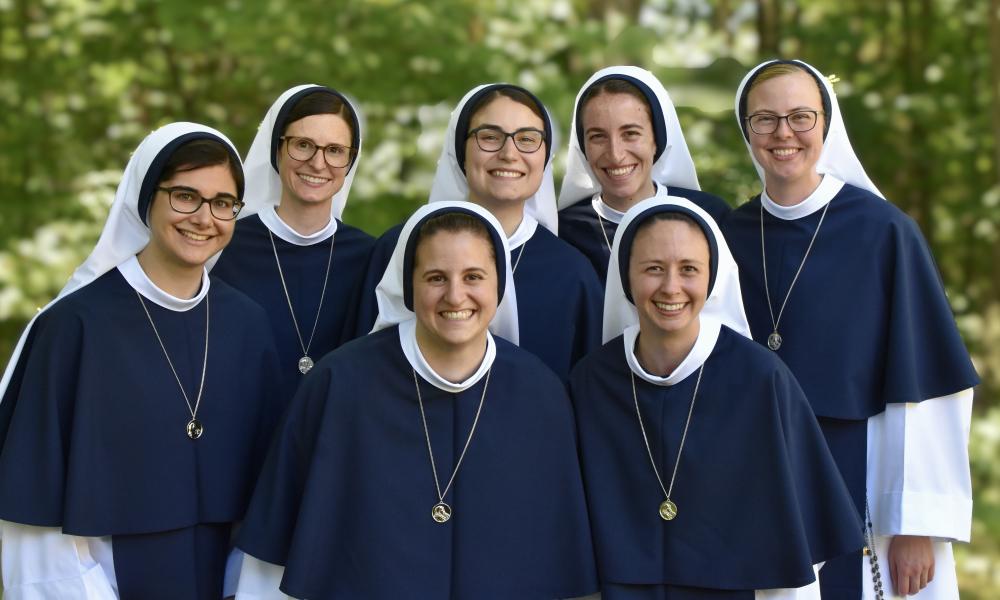 ---
Finding Purpose and Joy in Religious Community
Caption: Seven women professed first vows with the Sisters of Life, a religious congregation with a special fourth vow to protect and enhance the sacredness of human life. Religious sisters profess vows of poverty, chastity and obedience. First vows are also known as temporary vows that precede perpetual vows.
---
Sister Mary Hostia Josephine, SV,  29, professed her first vows with the Sisters of Life, a religious community of women who take a fourth vow. In addition to poverty, chastity and obedience, they vow to protect and enhance the sacredness of human life.
It could be said that the seeds for her vocation were planted in Pinellas County. She grew up attending St. Jerome Parish in Largo. She later moved to Jacksonville to attend the University of North Florida where she earned a degree in Biology.
After graduation, she learned about a retreat taking place at the Sisters of Life Convent in New York City in 2017. It proved to be a life-changing experience.
"I felt an overwhelming sense of joy and purpose. I felt totally alive," said Sister Mary Hostia when describing how the retreat impacted her life.
The experience drew her closer to Christ and led her to discern if Jesus was calling her to a vocation as a religious sister.
"I recognized that the invitation I received to enter religious life was an invitation where Jesus would fulfill all the desires of my heart,' said Sister Mary Hostia.
As she continued her discernment and prayer, she received the grace and the courage to look more seriously into this invitation of religious life.
She joined six other women in professing her first vows on June 25, 2022, at Sacred Heart Catholic Church in Suffern, NY.  Bishop Salvatore Matano of the Diocese of Rochester, New York, was the principal celebrant and homilist.
The Sisters of Life are both contemplative and active. In daily prayer they lift up the needs of every human person, especially the most vulnerable, to Jesus, the Lord of Life.
They also provide support to women facing an unexpected pregnancy, providing a safe space for women to share their experiences and concerns. Their ministry includes helping women to find housing, listening to their stories, spiritual accompaniment,  helping them connect with resources and hosting baby showers to honor mothers and babies, and provide them necessary items. 
"Some women also receive a grace to baptize their children, and we connect them to a priest for that to happen.  What a beautiful thing to watch a mother baptize her child after choosing life," said Sister Mary Hostia.
The Sisters of Life also have a retreat mission, an evangelization mission, a college outreach mission, and a mission of hope and healing for women who have suffered after abortion.
Sister Mary Hostia maintains that the greatest gift in her eyes is the ability to live a prayer-centered life. As a member of the Sisters of Life community, Sister Mary Hostia exudes a sense of quiet joyfulness and contemplation as she discussed her duties and responsibilities.
"The Lord was not limited on the graces He gave to me," said Sister Mary Hostia.