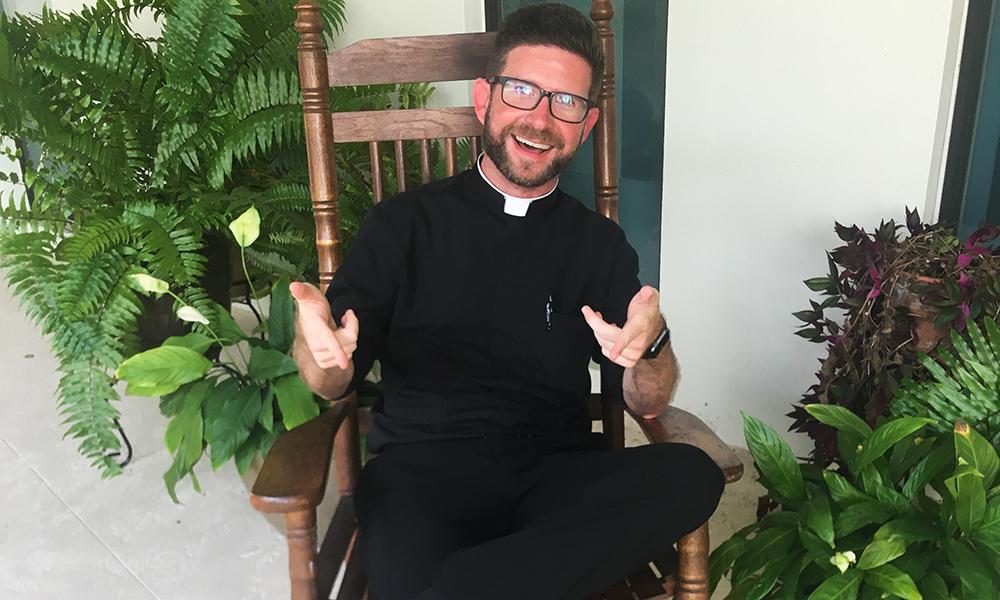 ---
Father Kyle Bell Evangelizes in a Unique Way
If someone does not know Father Kyle Bell, you could describe him as the Converse-wearing priest as he is usually donning black Chuck Taylors.
And there's a story behind his signature shoes.
"My uncle Chuck passed away very young," he said. "He always wore white Converse high tops. For his funeral, I was a pallbearer and I wore his shoes. They were really comfortable, so that became my shoe of choice. One Sunday, I ended up wearing my Converse for the Life Teen Mass because I didn't have time to change. The teens had such a reaction, I decided to wear them from now on."
While the Converse are a hip choice for a priest, Father Bell said the shoes have also become a means for evangelization.
"I do find that some people can get intimidated by the clerical collar," he said, "Out in public they will see me and have that initial shock or discomfort, but then they will see the Converse and smile. It is a doorway to evangelization opportunities," said Father Bell.
Evangelization is a priority for Father Bell as he begins his first year as Director of the University of South Florida (USF) Catholic Student Union (CSU).
"I am entering into this year with an eye for evangelization to bring Jesus Christ to the students, USF community, Temple Terrace, and the surrounding area," he said.
Father Bell knows firsthand how the college years can impact a person's faith journey. He grew up in a faith-filled, church-going Methodist family.
"I knew Jesus very personally as my Lord and Savior," he said.
However, while attending Florida State University he started to feel a deeper connection to Jesus which led him to enroll in a Methodist seminary. Then, as he learned more about what Christians throughout history have believed about the Eucharist, Father Bell said he became attracted to the idea of the True Presence.
The Catechism of the Catholic Church describes True Presence in paragraph #1413: "Under the consecrated species of bread and wine Christ himself, living and glorious, is present in a true, real, and substantial manner: his Body and his Blood, with his soul and his divinity."
Father Bell was also influenced by friends at FSU who were devout Catholics.
"By going to Sunday Mass and praying at Eucharistic Adoration, faith in the Eucharist began to grow," Father Bell said.
Father Bell became Catholic in 2007 and he was ordained a priest in 2018. Earlier this year, Bishop Gregory Parkes appointed Father Bell to serve as the new director of the USF CSU.  
He hopes that college students at USF will experience the same conversion of heart that he experienced while studying at FSU.
Catholic Campus Ministry at USF is made possible by the generosity of CSU Benefactors, and in part by donors of the Annual Pastoral Appeal. Learn more about the Catholic Student Union at USF here.