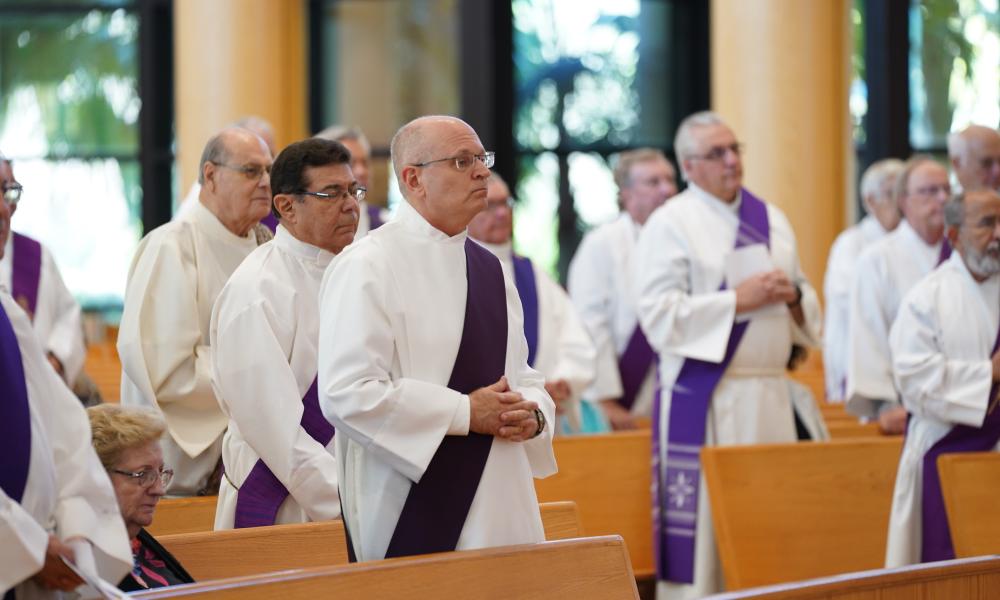 Diaconate Mass of Recommitment on March 11, 2023, at the Cathedral of St. Jude the Apostle. Photo by Dana Rozance, Vidaroza Photography
---
Deacons Renew Promises of Ordination
March 13, 2023 I On March 11, 2023, Deacons from across the Diocese of St. Petersburg gathered to renew the promises from their ordination and recommit to the threefold ministry of the diaconate in Word, Charity, and Sacrament. Their wives renewed their promise to support their husbands in the ordained Ministry of Deacon.
Bishop Gregory Parkes celebrated the Mass at the Cathedral of St. Jude the Apostle in St. Petersburg.
"My dear brother deacons and the wives that are gathered here today. I welcome you here to Our Cathedral of St. Jude the Apostle for this Mass of recommitment," Bishop Parkes said, "I think it's appropriate that we gather here today in this place, that most, if not all were ordained to the diaconate. It is very appropriate to come back to where it all began and to once again recommit ourselves to the ministry, to the vocation in which God has called us."
The diaconate is a vocational call to serve the Church.  The word deacon comes from the Greek word diakonos, meaning "servant" or "helper." You may have seen deacons proclaiming the Gospel and preaching at Mass, assisting at the altar, or even officiating at baptisms, weddings, and funeral services.  They serve the parish community in hospitals and in prisons, provide outreach to the poor, conduct marriage counseling, and even manage parish operations.  They can also serve the bishop's ministries at the diocesan level.
During his homily Bishop Parkes said, "In addition to our Lord's words which we read in the Sacred Scriptures, we can always learn from his actions not only by what he said, but by what he did. We know from the Gospel, what Jesus did in his ministry was spend a great amount of time with those who would have been considered outcasts during his time in society. It was not the wealthy, well-to-do, powerful of society at that time. The scribes and pharisees complained that this man welcome sinners and eats with them, and yes, he did. Thanks be to God, because he gives each of us who have been called to serve and minister to Gods people, an example, a model, a paradigm of what our ministry as deacon, priest, bishop is supposed to be. It's part of the essence of the diaconate, it's part of that ordination and consecration to be servants of charity in the communities in which we serve, and in our world today."
Bishop Parkes assured the deacons of his prayer and gratitude.
"Deacons, know that I pray for you and your families. I give thanks to your spouses, to the wives and families who walk with you in this ministry and who are very often called to make sacrifices so that you can engage in ministry which often takes you away from home and from the family. I pray for you, and I give thanks for you and your ministry. Know as your bishop I walk with you in your ministry, and I am here to serve with and beside you. May God bless you," Bishop Parkes said.
For information on the diaconate program in the Diocese of St. Petersburg, visit www.dosp.org/diaconate.
Individual donations to the Catholic Ministry Appeal make the Diaconate Ministry possible in our Diocese, serving thousands each year.
Click on arrow below to view photos from the Diaconate Mass of Recommitment. (Photos by Dana Rozance, Vidaroza Photography)