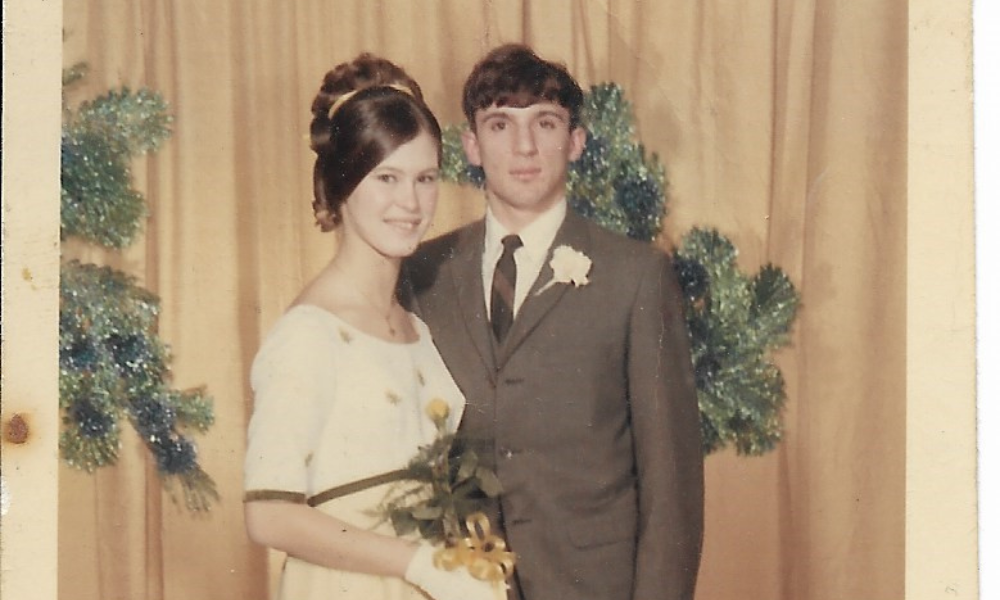 Terri and Bob Rayo photographed at a high school dance.
---
Couple Married Five Decades First Met in Kindergarten
August 29, 2022 | Couples from around the Diocese of St. Petersburg celebrated 25 and 50 plus years of sacramental marriage during the Marriage Jubilee Mass. Terri Rayo met the man she would end up marrying on the first day of kindergarten at Blessed Sacrament Catholic School in Syracuse, New York. 
"All I remember is Bob had a birthday party, and I didn't get invited because nobody liked me in kindergarten because I was only four, ate crayons and I sucked my thumb," she said.
Despite the birthday party snub, when the two were in high school, Bob worked up the courage to ask Terri for a dance and they've remained inseparable since.  
"He was the most popular boy," said Terri Rayo. "At that time, in the sixties, boys were on one side of the room and girls on the other. It was very different from other eras. To get asked to dance by a boy, that was a big deal."
The Rayos married June 10th, 1972, moved to the Tampa Bay area and were among the founding members of St. Mark the Evangelist Catholic Church, Tampa. They recently celebrated their golden 50th wedding anniversary and were among 208 other couples from fifty-one parishes in the Diocese of St. Petersburg to be recognized during a Marriage Jubilee Mass of Thanksgiving celebrated at the Cathedral St. Jude the Apostle, August 21st. 
Speaking during the homily, Bishop Parkes told the couples that through their sacramental unions they are giving witness to the Church's teaching on marriage. 
"My dear brothers and sisters, you as married couples are sacramentally joined together through the Church. You are the good news. You are good news to our world, and to our country, which definitely needs good news as it regards to marriage," he said. 
A special recognition was given to two couples in attendance who each celebrated 75 years of marriage, Dana and Elsie Grady from St. Jerome parish in Largo, and Calvin and Madelyn Converse from St. Catherine of Siena parish in Clearwater. 
"That's a long time to be married. But I do thank you for your witness and for the sacrifices that you make. I know it's not easy. It's not easy, which is why it's so important as a couple, as a family, to stay connected to your faith and to keep your eyes always on the Lord," said Bishop Parkes. 
Keeping their eyes on the Lord is what the Rayos say has helped them and can help others maintain a strong sacramental marriage. 
"My advice would be, number one, worship together and pray together. And, never forget God in your life," said Bob Rayo. "When something comes up, the first thing we think about is praying. Prayer is very important to us." 
They say laughter and humor are also important. 
"We maintain a pretty good sense of humor about stuff," said Bob Rayo. "We're good about kidding ourselves and allowing other people to kid us and not take ourselves too seriously."
In total, 9,972 years of sacramental marriage were celebrated at the Marriage Jubilee Mass of Thanksgiving.