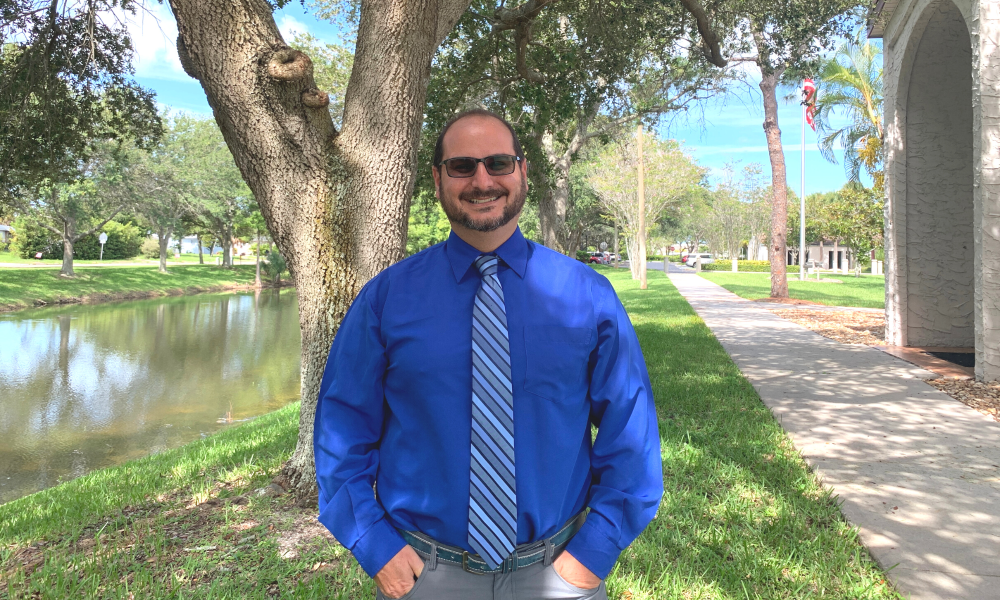 ---
A Conversation With Catholic Schools Superintendent Chris Pastura
The start of the new Catholic school year, August 8th, is quickly approaching. In this "Back to School" interview, Superintendent Chris Pastura discusses Catholic schools in the Diocese of St. Petersburg and the upcoming school year. He answers timely questions about scholarships, faith, mental health, career opportunities, safety, Catholic identity and more. 
Since you became superintendent in 2015, what has changed for the better in Catholic schools around the Diocese of St. Petersburg?
Fortunately, there is greater accessibility to Catholic schools now. We've had a vast expansion in the state of Florida with the state scholarship program, known as Step Up for Students. There has been a vast expansion of scholarships for various income levels and for children with unique learning needs. In the last two years, the state has expanded these scholarships to include military families. So, if you're a military family, your children can go to a Catholic school and receive a state scholarship. Just in the past year, scholarships have been introduced for our very dedicated police officers and law enforcement professionals. So, there is just an immense amount of opportunity from a parental perspective. From a school perspective, I feel like one of the things that we've been trying to do increasingly better every year, and it's a constant priority, is to make sure that that we really make families feel welcome and that the spirit of our Lord is present and alive in our schools.
Can you tell us a little more about Step Up For Students?
In the beginning, the scholarships were mostly for very low-income families. But that has changed to include middle-income families. There are a lot of people today that would be very surprised to know that they qualify for scholarships. We've all been working together to help middle income families because Catholic schools are sometimes out of reach to them too. So that's been a great opportunity. (To learn more about scholarship opportunities, click here.)
Is it true that parents can receive a scholarship of over $7,000 for a child to go to a Catholic school?
That's right. It's wonderful because it gives so many families the ability to choose a school that mirrors the values that they teach in their own home. So, if you're a Catholic family, or if you're a family that's not Catholic, you now have the option to send your child to a Catholic school because you want your child growing up where they're praying for one another and learning about forgiveness, the power of Christ in our lives, and how to treat others as we wish to be treated. When your child is in this environment, these values become an ordinary part of their lives. 
You don't have to be Catholic to attend a Catholic school, but can you explain how Catholic values are instilled?
There is a strong Catholic presence in all of our schools, from Pre-K, all the way through high school. The Catholic faith is obviously taught in religion class every day and we pray every day. Also, our Catholic faith is woven into everything we do. Those of us who have studied the Catholic intellectual tradition know that the Catholic Church has been responsible for some of the greatest discoveries in many areas such as math, science, and architecture. We try to make sure that the Catholic faith is interwoven into the daily reality of the school in a very normal way because it's truly a part of who we are at our deepest core.
Also, priests on campus promote our Catholic identity. At the high school level, Bishop Gregory Parkes has placed a special emphasis on having a priest present on campus. He has designated a chaplain or a local pastor for each of our high schools. The presence of our priests on campus is a very normal part of a school day. Priests are walking down the halls with students or maybe they're outside during recess. They go to football games on Friday nights. Sadly, we just lost one of our high school chaplains a few weeks back, Father Carl Melchior. We lost a titan. We lost a giant. Father Carl Melchior was the chaplain at St. Petersburg, Catholic High School and a very close friend. I know he's up there right now, even as we're speaking, and I'm smiling, even thinking about him. But we still have such a wonderful group of priests and pastors who are so supportive of our Catholic schools. We are truly blessed in this Diocese and I believe it's one of the reasons we're thriving.
We're also blessed to be able to celebrate Mass on campus each week. It's a great experience. If you worry about the future, go to a Catholic school Mass, and your hope in the future will be restored. The children are inspiring and it gives me confidence that when I get older and they take over, we're going to be great.
In the last 20 years, we have seen tragic instances of school violence. How safe are our schools? 
Our schools are very, very safe. Sadly, we see these horrible tragedies and I know that it's frightening. My daughter is in Catholic school and my son graduated from our Catholic schools. I know it can be frightening. But we have been studying school safety for the past 10 years and we have developed some great protocols and a comprehensive threat assessment process. We have some good technology. I don't want to go into too much detail about it but I can tell you safety is our top priority. This is something we spend a lot of time thinking about and planning. We've looked at everything from facilities, to processes, technology, and monitoring systems. Every time you make a good decision in a school community, it keeps everyone safer. 
We've also seen a rise in mental health issues with students and adults. Is that something that you and your administrative team have looked at?
Over the past couple of years, we've engaged in training for our principals and counselors on Mental Health First Aid. We want to make sure that they're equipped to recognize signs and symptoms and be able to engage families in a meaningful way. This could include helping families find the mental healthcare and pastoral care they need. A lot of times, mental health issues are related to what someone is experiencing in their overall life. That's where I think our pastors can be very helpful in addressing the needs that the whole family is experiencing.
What are some of the great achievements that we have had this past year and what are we looking forward to in this new year for our schools?
I always think that our greatest achievements are when our students receive first Holy Eucharist and Confirmation. When our kids receive the sacraments, that tops everything. Also, in terms of big enhancements, Tampa Catholic High School has just completed a six-million-dollar renovation of their athletic facility. It's just an incredible renovation. Also, we're about to complete a new building at Morning Star Catholic School in Pinellas Park. This is a school for students with unique abilities. The building will provide space for high school graduates who need extra help, such as job training and the skills needed for adult life. It's an incredible program, and we're so blessed to have it. We hope the building will be ready to occupy by the first day of school.
Some local school districts have staffing shortages. How is it with Catholic schools? Do you have openings?
We still do have some teacher positions open. We're very blessed in the Catholic school environment to have people that are both incredibly gifted in their field as a teacher, but they also have that faith dimension. But we're facing some of the same realities that other schools and business are facing.  If you're a person that loves kids, and you want to do something incredible with your life, please come and teach in our Catholic schools. (Click here to view career opportunities.)
Why would I want to send my child to a Catholic school?
Because the same values you teach in your house and the same expectations that you have for your children are going to be mirrored in a Catholic school. More importantly, you want your child in an environment where there's joy, faith, forgiveness, and kindness, and where those things are a part of everyday life. That's what is expected. You can't get that anywhere else. You can get a good education in a lot of different places. You're not going to get an education where the Gospel of Jesus Christ is lived, taught and breathed every day. It's a beautiful place. You should go to your local Catholic school and take a tour to see for yourself. If you're a parent, you will leave saying this is where I want my precious child to be. (Click here to find a list of local Catholic schools.)
---
This interview was recorded for Spirit FM's public affairs program, "How We See It," hosted by John Morris. Chris Pastura has a master's degree in nonprofit administration, a master's degree in educational administration, and a bachelor's degree in theology. He has previously served as an assistant superintendent, a high school principal, assistant principal, lay missionary, and theology teacher.