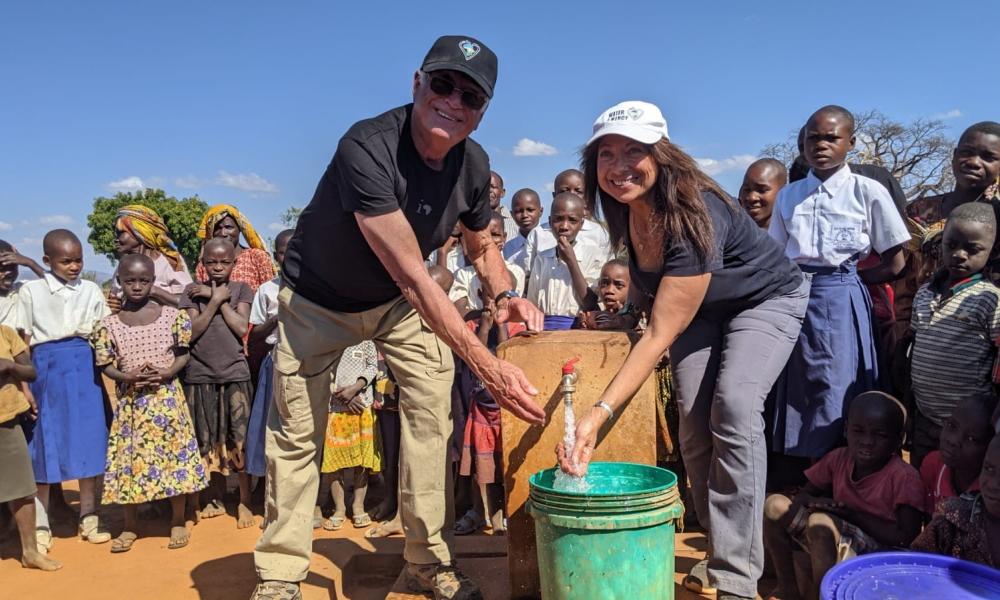 ---
Clearwater Resident Brings Lifesaving Water to Africa
Inspired by the Blessed Virgin Mary, Jesus, and her daughter Samantha, Nermine Rubin has made it her mission to not only offer a hand-out, but a hand up to her global neighbors in Tanzania and Kenya.
"Ever since my daughter was 8, she talked about going to Africa to help the children," remembers Nermine. "When she was 16 at Clearwater Central Catholic, she wanted to go, but I kept saying, 'No.'
Then she consecrated herself to Jesus through Mary and that changed her heart and her life.
"Truly, I became a different person. The Blessed Virgin Mary and Jesus wanted me to go and to be there so that I could help her children. And what I saw made my hair on the back of my neck stand up," said Nermine.
What Nermine saw in Tanzania was startling. She witnessed people walking 3 to 4 hours a day to get water to bring back to their home or village. The water was often black and food was scarce.  She witnessed people on the verge of starvation.
"Seeing all these things helped put on my heart to start Water 4 Mercy," said Nermine.
Water 4 Mercy is a non-profit organization based out of Clearwater, Florida. Nermine and a small group of board members assist in fundraising and building relationships with non-government organizations (NGOs) that can assist with 'boots on the ground' in the African villages.  Water 4 Mercy has built relationships with engineering groups in Israel including, Innovation: Africa (IA), CultivAid and Don Bosco Technical Institutes.
"People all over the world need dignity. We are God's people, and we all need dignity and that's what God wants," says Nermine.
But she admits not having an agricultural background proved to be a challenge.
"I don't know anything about water or agriculture. This isn't my expertise, but what God did was He empowered me and He gave me a formidable team from Israel. Many don't know that Israel is a world leader in innovation and advanced water and agricultural technology," said Nermine.
Locally, Water 4 Mercy has partnered with St. Michael the Archangel Catholic Church in Clearwater, Espiritu Santo in Safety Harbor, and the Diocese of St. Petersburg. Bishop Gregory Parkes serves as an ex-officio board member and has established a parish twinning relationship with St. Michael's and the local church in Tanzania.  Water 4 Mercy has established partnerships with local Jewish groups and business foundations.
The goal is to empower the villagers to learn the skills to create wells and make the best use of the land for crops. They harness solar power to run the equipment.  According to water4mercy.org, many hours are spent walking to find water in holes in the ground instead of schooling, studying, helping with the family and so much more.
Realizing that writing a check to help the people was just a 'band-aid' solution, Nermine was determined to make a deeper impact. Prayerful discernment led to the realization that access to clean water is the answer to breaking the cycle of poverty.
Students from Clearwater Central Catholic have gotten involved in awareness and fundraising campaigns both in the school and the community. They will be fundraising for a specific village in Chimwaga, Tanzania.
"We are not just giving a hand-out, but a hand up that has impact forever, so that people have the dignity the way God intended," says Nermine.