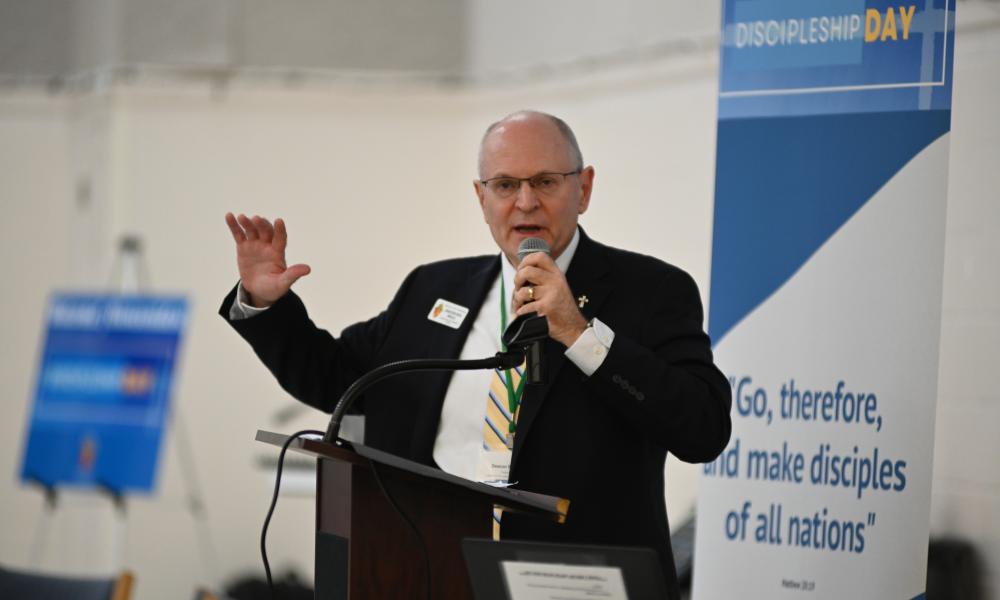 Deacon Rick Wells speaks at Discipleship Day on January 26, 2023, at St. Timothy Parish in Lutz. By Katie Camario
---
Churches Focus on Growth and Making Disciples
Discipleship Day brought together representatives from 57 parishes and six schools at three locations.
What does discipleship look like after the pandemic in a post-modern society that is losing touch with God? How can our parishes grow by following the mandate of Jesus Christ to make disciples? These were the topics addressed during Discipleship Day held on three different dates January 26, 27, and 28, 2023, in the Diocese of St. Petersburg.
"It was eye opening. It was informative. It made you think, a little bit outside of our comfort zone, of what we would typically do on a day-to-day basis," said Beverly Burgess, parish manager, St. Joseph Parish, Zephyrhills.
"This event actually empowered me to go to my members in the Haitian community, to share everything that I learned here to help them understand exactly what discipleship is and what we need to do to bring more people into the Church," said Peter Dickenson with the Immaculate Conception Haitian Mission.
Keynote speaker, Father Leo Patalinghug, urged individuals to focus on the Kerygma, a Greek word meaning proclamation. The word is used to describe how the apostles and disciples of the early Church evangelized by sharing the "Good News" that Jesus lived, died and rose from the dead because He loves us and we can encounter Jesus because of his resurrection.
"We have got to get back to understanding that the church has one job first, to be kerygmatic. Everything we do is about who Jesus is, an encounter of Christ, as someone who loves us, someone who saves us, someone who is in communion with us, and someone who makes you a disciple," said Father Leo, who is an author, TV host, renowned chef, national speaker, and national Eucharistic Preacher.
Father Leo also encouraged disciples to be humble enough to admit their mistakes and to acknowledge their dependency on God for forgiveness.
"We need to let the world know that, guess what, even priests, the bishops, and the Pope, make mistakes and sin. Our remedy is the Sacrament of Confession. Confession is where we find faithfulness. Are we making it real for the people that we proclaim the Good News to by showing the humility of what it means to be forgiven ourselves? There is a solution to sin, and it's Jesus Christ, who destroyed sin and death by his own suffering."
More than 350 people from 57 parishes and six schools attended Discipleship Day. The event was offered at three locations: St. Timothy Parish in Lutz, St. Catherine of Siena in Clearwater, and Bishop McLaughlin Catholic School in Spring Hill.
At the opening Mass on day two of Discipleship Day, Bishop Gregory Parkes said to be a disciple means more than being a follower of Jesus.
"It's not just a question of having faith in Jesus, and then following Him. The disciple of Christ must not only keep the faith and live it, but also profess it, confidently bear witness to it, and spread it. This is what we are called to do in the fullness of being disciples," said Bishop Parkes.
Bishop Parkes also said a disciple of Jesus is constantly deepening their understanding of how to serve Christ and become Christ-like.
"It's an ongoing process, a process of conversion, a process of transformation, which takes a lifetime. It happened with the first disciples who followed the Lord. It was a gradual process that they had to go through, with the mystery of who Jesus was unfolding throughout their lives, ultimately, to the point where they shed their own blood. They made their own profession of faith in Him not with words, but with their life through martyrdom."
Anna Zaczynski of St. Teresa Parish in Spring Hill attended Disciple Day because she is always seeking opportunities to grow in relationship with other people and with God.
"This event affirmed my response to discipleship, to make a difference, one person at a time, and to bring others to a deeper and a more passionate relationship with God," said Zaczynski, who serves in various ministries. "It brought me joy, so I can share the joy of God with others and see the joy of God in them."
Richard Falk and his wife Joan are ministry leaders at Light of Christ Parish. They attended Discipleship Day because they are eager to find ways to grow back the church and spread the faith in their community and in their own families. He connected with Father Leo's message about how important mealtimes are for teaching about the greatest lessons of our faith.
"We have five children and grandchildren, and we have a niece that lives in the area now. When we get together, I always try to say grace, and I always try to say something that instructs about Jesus, you know, simple things around mealtimes. One of the things I have been agonizing over, is to find a question or a topic to stimulate more conversation," said Falk, who said Discipleship Day game him the resources he needs to better guide conversations around faith.
Many parish teams also attended Discipleship Day to discuss how they can be more effective in making disciples.
Father John F. McEvoy and Father Vijaya B. Polamarasetty of St. Anne Parish in Ruskin attended Discipleship Day with parish staff and ministry leaders in both the English and Spanish tracks.
"Discipleship Day was awesome. It reminded me that everybody has to take an active part in discipleship since we are the Body of Christ. It's not just priests. Once we are baptized, everybody is called to actively participate in the mission that Jesus left for us. The presentations helped us," said Father Vijaya.
The Diocese of St. Petersburg is hoping to make Discipleship Day an annual event.
Discipleship Day was funded by the Catholic Ministry Appeal and was planned by 13 members of the Pastoral Center staff, led by Dr. Armando Chavarria, Executive Director of Missionary Discipleship for the Diocese of St. Petersburg. Dr. Chavarria and Dr. Lois Locey, Chancellor for Administration/Chief Operating Officer of the Diocese, provided a keynote address on "The Path" to discipleship. Meegan Wright, Executive Director of Stewardship and Development for the Diocese and the Catholic Foundation spoke about "Turning Obstacles into Objectives." Carlos Flores, Director of Intercultural Ministries gave the same talk in Spanish. Dale Brown, Director of the Lay Pastoral Ministry Institute spoke about strategies for developing short-term opportunities for discipleship in the parish. Jose Orlando Colon, Chair of the Diocesan Hispanic Commission gave this same talk in Spanish. Deacon Rick Wells, Chancellor for Canonical Affairs, spoke about strategies for developing long-term opportunities for discipleship in the parish. Carmen Cayon, Director of Faith Formation at St. Paul Parish in Tampa, gave this same talk in Spanish. Father Chuck Dornquast, diocesan Director of Vocations, gave a keynote address in Spanish on discipleship. Ryan Phelan, Director of Youth and Young Adult Ministry served as emcee for the event. Father Salvator Stefula celebrated Mass at Bishop McLaughlin and Father Drew Woodke celebrated Mass at St. Timothy Parish. Music was provided by Andres Ocampo and a praise and worship band from Santa Maria Mission in Tampa.
To view photos from Discipleship Day, click the arrow in the image below.