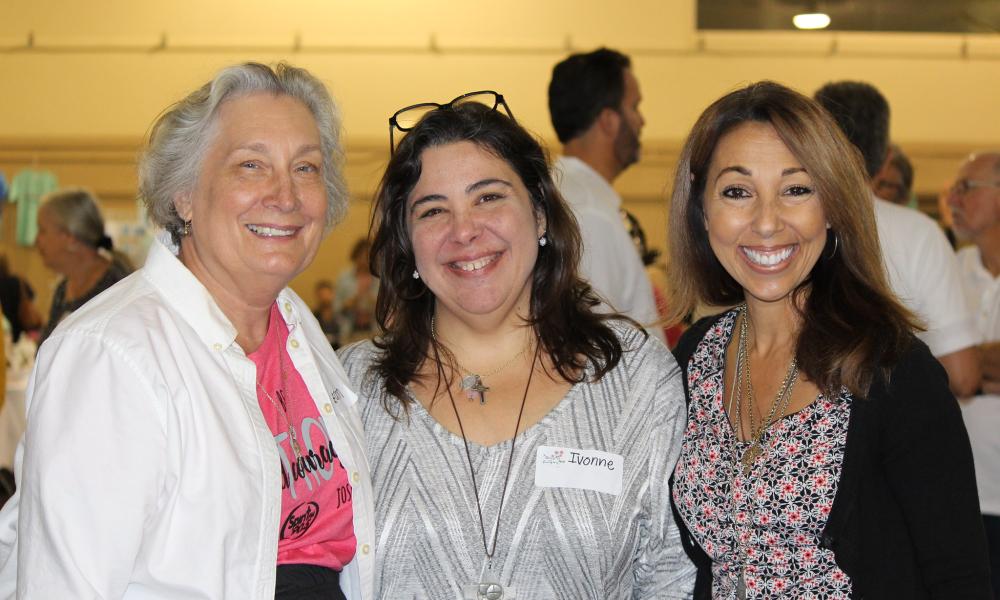 ---
Celebrating the Splendor of You
Annual Spirit FM's Women's Conference Has Been Rescheduled
---

Due to a number of factors, and to be good stewards of God's gifts, we have moved the date of the Catholic Women's Conference from Saturday, April 2nd to Saturday, September 17th. This change will hopefully allow more people to attend, along with more exhibitors, vendors, and shopping for you, and even more opportunities to bring your friends. For those that have already purchased tickets, your tickets will be honored. If this change doesn't allow you to attend, you may transfer your ticket to a friend, which will be a blessing to them, or contact Spirit FM for a refund.  Tickets are on sale at www.myspiritfm.com/WomensConference or call Marci at 813.289.8040, ext. 231.

---

 
It's a day of celebrating our Catholic faith at this year's Spirit FM's Catholic Women's Conference at the Florida State Fairgrounds Expo Hall. The 7th annual event is hoping for record attendance with seating available for 2000+ attendees.
Like most major events, the pandemic forced the station to cancel both 2020 and 2021 events. Now, it's back bigger and better.
"With feedback from local women's groups and listeners, all were supportive of bringing the conference back.  So last fall, we stepped out in faith to begin the planning process for this year's event," Station Manager John Morris said.
The two featured speakers are author and radio personality Deby Schlapprizzi and Florida State University campus minister, Sister Rita Clare Yoches, TOR.
Deby is the author of the book, The Splendor of You.  She reminds us that God placed his fingerprints on each person, and each person has a value and a calling.
Cardinal Timothy Dolan of the Archdiocese of New York said this about Deby and her message: "Don't listen to the world. Listen to Deby. The world tells us faith oppresses, smothers self-worth, and leads to guilt and neurosis. Deby tells us loving God brings peace, joy, and freedom, while affirming everything true, good, and beautiful within us. We are God's work of art. He looks at us and smiles."
The goal of the Women's Conference is to bring Spirit FM listeners and supporters together in one space to share and celebrate their faith.  Kathy DeSanto, a parishioner of Our Lady of the Rosary Parish in Land O' Lakes, says the conference inspires her.
"There's something about gathering with like-minded believers in an atmosphere that has been specifically designed to host the presence of God. You open yourself up to a life-altering experience," said DeSanto.
Kathy's adult son, Nicholas, passed away suddenly before the last conference in 2019.
"After the loss of my son, I attend the Women's Conference and was embraced by a tribe of women that I hadn't seen in a while who generally cared about me. I needed them on my grief journey, and they were there at the right time," added DeSanto.
"My hope is what they will hear is a sense of their worth… what their next step is for what God is calling them to be," said Schlapprizzi during an interview with Spirit FM. "It's a moment for them to step away, to be able to breathe, to hear a voice of encouragement, a reminder of who they are, of the possibilities we have, and a reminder of the truths of our faith."
Christ the King parishioner Stephanie Elder said, "The Spirit FM Catholic Women's Conference is an amazing way for a busy mom to set aside time to spend with the Lord and grow in their faith.  It gets you out of the house for the day and allows you to focus on just that.  With Mass, Confession, Adoration, speakers, fellowship and prayer it has everything you need to recharge your spiritual batteries in just the right amount of time so you don't worry about what will be waiting for you at home."
The day begins at 8:00 a.m. with Mass celebrated by Bishop Gregory Parkes.  There are opportunities for Reconciliation and quiet prayer in the Adoration chapel, a first for the conference.
Each year, between 35-50 businesses and ministries display their work and there will be opportunities for purchasing gifts, crafts, jewelry and more. Tickets start at $65 with discounts for students with a valid student ID.  The ticket price includes a light breakfast, lunch, parking, a swag bag and more.  Table and event sponsorships are also available.
"We've been looking at the Expo Hall for the last two or three years," said Morris. "If you attended past conferences, you know that we had nearly 1500 crammed into the Special Events Center at the fairgrounds.  Table seating is limited so those waiting should buy their tickets sooner than later."
---
Spirit FM 90.5 is made possible by the generosity of Spirit FM benefactors and underwriters, and in part by donors of the Catholic Ministry Appeal.
For tickets, hotels, and other conference information, visit www.myspiritfm.com/womensconference.