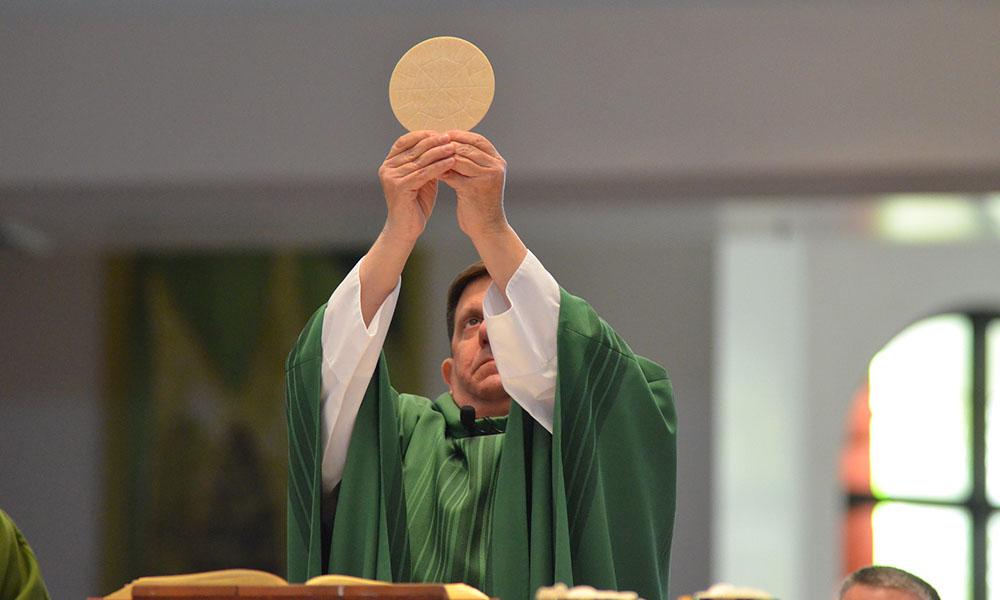 ---
Celebrating the Life of Father Carl Melchior
"Our Love for Him will Continue"
Caption: Father Carl Melchior celebrates a Back to School Mass for teachers, administrators, and staff from Catholic schools throughout the Diocese of St. Petersburg at St. Timothy Parish, Lutz, on August 9, 2019.
---
He was "Uncle Carl" to his nieces, "Father Carl" to his students and parishioners, and "Buster" to those who knew him best, like his close friend, Father Joe Waters.
"I was devastated by the news of his sudden death. I had driven him to the airport only hours before," said Father Waters. Then sorrow turned to joy. 
"In faith, hope, and love, we rejoice with Buster that God has called him to life eternal. He has gone home while being a faithful priest. He has gone home being a faithful friend," said Father Waters during the Evening Prayer service on June 13, 2022, at Christ the King Catholic Church, Tampa.
Many were shocked to learn of the death of Father Carl Melchior. He grew up in Tampa and was ordained a priest for the Diocese of St. Petersburg in 2009 at the age of 46. He previously worked as Assistant Equipment Manager for the Tampa Bay Buccaneers. He died from cardiac arrest at the age of 59 on June 30, 2022, while in Philadelphia waiting for a flight to Greece for a long-awaited pilgrimage.  To read Father Carl's official obituary, click here.
Most recently, Father Carl served as Master of Ceremonies for Bishop Gregory Parkes and Chaplain of St. Petersburg Catholic High School (home of the Barons), where he helped the school advance in many ways. His leadership assisted the school with upgrading facilities, increasing enrollment, and enhancing the spiritual life of the school community, particularly through the annual Kairos retreat. 
"He was and always will be a part of the Baron family," said Bishop Parkes during the homily at Father Carl's funeral Mass on July 14, 2022, at Christ the King. 
Four bishops were present at the funeral Mass: Bishop Parkes and Bishop Emeritus Robert Lynch, of the Diocese of St. Petersburg; Bishop David Toups, of the Diocese of Beaumont, Texas; and Bishop Gerald Barbarito, of the Diocese of Palm Beach.
Bishop Parkes acknowledged that many, including he, were mourning the loss of Father Carl. Bishop Parkes had developed a close friendship with Father Carl over the years and he had come to rely upon him for assistance during liturgical ceremonies and other events. Father Carl also helped Bishop Parkes through several health challenges, including major surgery on June 9, 2022. 
While they couldn't agree on college football, Bishop Parkes is a Seminole and Father Carl was a devoted Gator fan, the two shared a love for Buccaneer football, as well as other sports. Bishop Parkes joked that Father Carl would often get nervous while watching the Bucs play and he barely said a word, until the Bucs scored or there was a bad call.
However, Bishop Parkes also addressed the sadness many were feeling by the circumstances of Father Carl's death. 
"Our faith can be tested at times, particularly when we lose somebody we love suddenly and unexpectedly," said Bishop Parkes. 
He also shared how such a loss can be a blessing if it brings us closer to Christ.
"It's only through the lens of the Cross of our Lord that we can find meaning and consolation during such a time of trial and suffering that we are experiencing," said Bishop Parkes.
At the close of Father Carl's funeral Mass, Bishop Lynch fought back tears as he delivered his closing message.
"Love outlasts death. Jesus died for us so that his love might continue. Father Carl has left us in death, but our love for him will continue," said Bishop Lynch.
After the Mass, priests and deacons from around the Diocese of St. Petersburg gathered outside as Bishops Parkes, Lynch, Toups, and Barbarito, and Father Waters took turns blessing the casket with holy water. Then, they all sang Salve Regina, the Latin version of Hail Holy Queen, the final prayer of the Rosary. They commended their beloved friend, colleague, brother, and priest to the Mother of God.