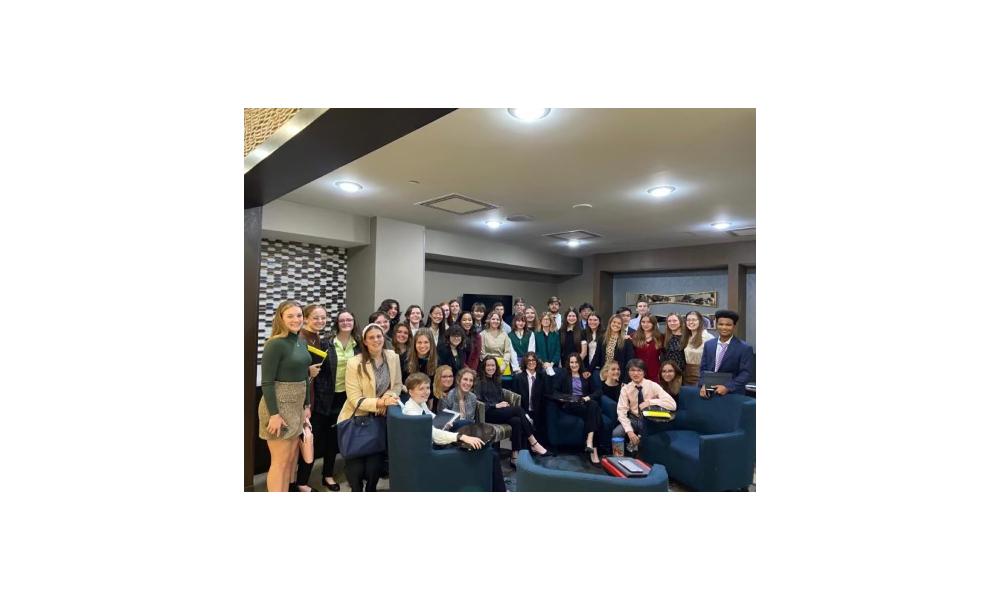 ---
Catholic Students See How Global Issues and Faith Intersect
Recently, Clearwater Central Catholic (CCC) and St. Pete Catholic High Schools competed at the Model United Nations (UN) in Orlando. Clearwater Central took home four awards.
Riley Deputy, a senior at CCC, represented the country of Micronesia as their delegate in a room that focused on care for creation. She said they discussed climate change with special regards to COVID-19, finding funding for education on environmentalism, methods for sustainable innovation, and working with NGOs.
"The entire room worked together to implement sustainable innovation practices," she said.
In the end, Deputy took home two awards: Most Improved Delegate and Honorable Delegation Award for her work as a Micronesia delegate.
Anthony Fox is a senior at CCC who brought back a commendable award after this year's Model UN.
While both students recognize the academic and professional benefits that come with participating in this club, they also say there is also an opportunity to live our Catholic faith through this process that involves dialogue, encounter and alleviating human suffering.
"When talking about countries and their humanitarian aid, your faith will immediately tie in," Fox said.
He also said participating in and researching these events brings awareness to solutions that can be implemented via the principles of Catholic Social Teaching.
"You can then take that action in your life," Fox said.
In this year's Model UN, Fox said he remembers seeing a Catholic institution that was donating to Africa listed as a resource for aid.

"I saw that my faith is conjoined with these solutions," he said.
Regina O'Brien, the moderator of CCC's Model UN club for the past 20 years, said this year the school brought 41 students to the event
O'Brien said that the students celebrated Mass together at the hotel celebrated by Father Charlie Mitchell from St. Mary Magdalene Parish in Altamonte Springs.
"The campus minister reached out to a priest to say Mass Friday night at 5:00 p.m.," she said. "The kids were readers, and the priest targeted the homily towards them. It was beautiful."
Combining academics with the Catholic faith is a central mission of the high school.
The CCC website states, "Our distinctive and focused academic program inspires students to fully develop their moral, physical, spiritual, intellectual, and creative potential, as well as learn to respect diversity in the world around them."
O'Brien sees this mission played out through the facilitation of the Model UN club.
"Our school really does support a lot of things, and we look for academic opportunities for our kids," she said. "We try to give kids opportunities to shine in whatever it is they are good at. From a Catholic, universal point of view learning the point of view of other countries is invaluable and helps you solidify their own opinion. I like to see kids have their opinion on global issues."
The United Nations collaborates with intergovernmental organizations and civil society to address common concerns such as international terrorism, human trafficking, toxic waste dumping, and combating deadly diseases and health pandemics. While not all of their values align with the Catholic faith, the Church is called to encounter people of different viewpoints and to spread the Gospel message to all.