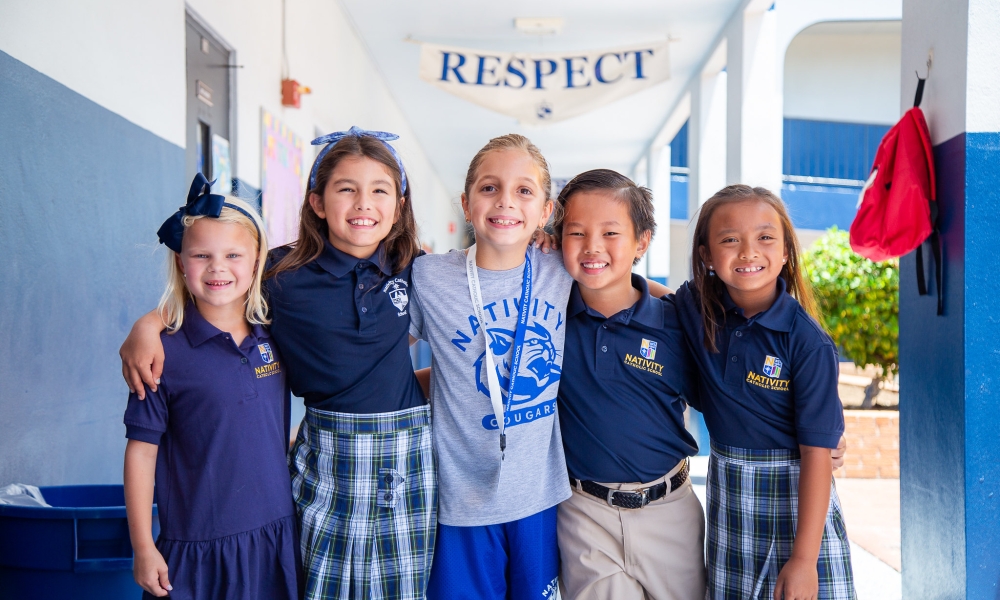 Students from Nativity Catholic School in Brandon are ready for the new school year. Courtesy Photo.
---
Catholic School Enrollment Increases Locally and Across Florida
August 30, 2023 | Step Up For Students, a nonprofit scholarship funding organization has issued a report to highlight why Catholic schools in Florida have seen consistent growth in student enrollment.
The special report, also known as a white paper, was the premise for a recent Wall Street Journal editorial that praised how school choice has enabled greater access to quality educational opportunities.
According to the WSJ editor, "Of the 10 states with the highest Catholic school enrollment, Florida is the only one where Catholic school enrollment has grown over the past decade."
The report cites a few reasons for this increase.
"The expansion of school choice is playing a key role in that growth, but it is not the only factor," said Lauren May, Directory of Advocacy for Step Up for Students, who helped author the report. "Catholic schools in Florida are also adapting, innovating and diversifying."
Growth in Catholic education is happening despite an increase in competition from charter schools, magnet schools, and other non-traditional educational environments.
Nearly half of all Florida students – 1.6 million total – now attend something other than their zoned neighborhood schools, up from roughly 10 percent a generation ago.
"That Catholic schools are growing on this landscape speaks volumes about their quality, credibility, and accessibility," states the report.
The report also cited innovation as a major factor for Catholic school growth.
"Catholic education is also changing on this landscape. Schools are increasingly adding distinctive, innovative programming to the core features that have made them valuable options for generations," the report states.
Locally, Diocese of St. Petersburg Catholic schools and centers have seen a 3.8% increase in enrollment this school year and the majority of schools are retaining students year to year.
Chris Pastura, Superintendent for Catholic Schools, stated, "We continue to grow because of the incredible work of our students, school staff, and pastors to create educational environments filled with faith and joy."
The Diocese of St. Petersburg has 13,091 students in 46 schools and early childhood centers. The mission of Catholic Schools and Centers is to provide a faith-filled community where students can grow spiritually, academically, and socially. They reflect the richness, diversity and strength of our Catholic church.
"Our main goal never changes; it is to educate young people to discover and live the vocation to which God is calling them," said Pastura.
Catholic schools are also becoming more diverse. Over the past decade, the percentage of students of color in Florida Catholic schools rose from 45.6 percent to 65.0 percent. Florida Catholic schools are now slightly more racially diverse than Florida public schools.
Many times, families may feel that Catholic schools are not an option because of cost. However, the Diocese of St. Petersburg has resources for families that need help.
"We are blessed to have the best school choice program in the country. It allows all children to receive a scholarship of $7,000-8,000 per year to attend a Catholic school," said Pastura. "In addition, we have diocesan and school tuition assistance for families that qualify financially."
If you are interested in enrolling your child in a Catholic school, contact your local Catholic school for a tour. A searchable "find a school" list can be found at Schools & Centers - Diocese of Saint Petersburg (dosp.org)