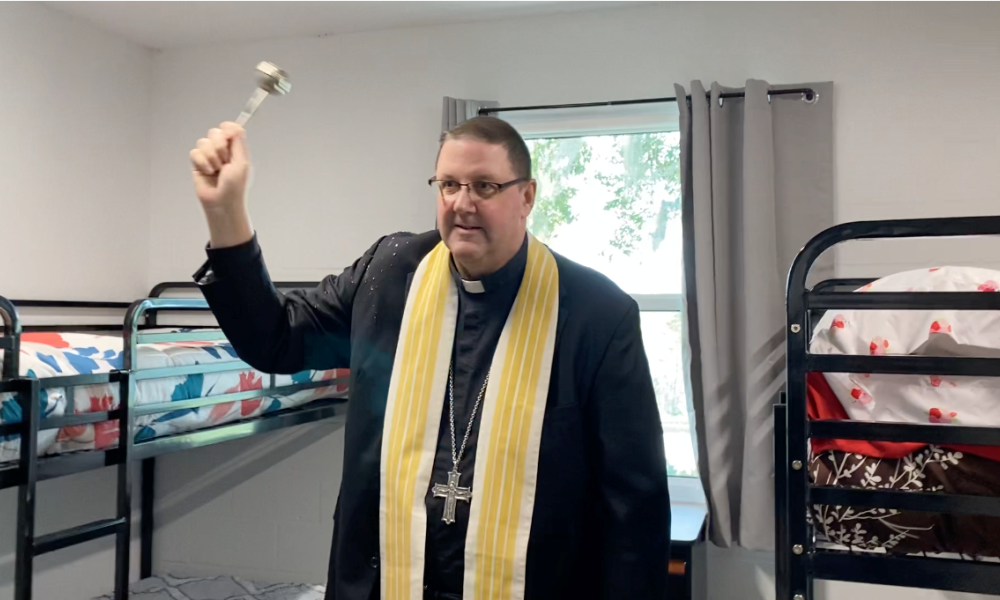 ---
Catholic Charities Opens a New Family Shelter for the Homeless
A Pasco County mother and her four young children abruptly became homeless when their rental was deemed uninhabitable and in violation of county code. Although she had been paying rent, the landlord wasn't taking care of the structure and code enforcement officials determined it must be vacated. She along with her 11, 8, 5 and 2-year-old, children had no place to go.
Similarly, a grandfather who is raising his granddaughter, following the death of his daughter, had only two days to find shelter. The trailer home they were living in was condemned for lack of care from the landlord and it too had to be vacated. He and his granddaughter also had no place to go.
Now, that has changed and both families have somewhere to call home. They will be the first families to be welcomed into The Pasco Family Shelter, an emergency shelter for families in Port Richey providing free housing and services to homeless families of Pasco County.
At a blessing ceremony for the shelter and its residents, Bishop Gregory Parkes said, "This is what we do, this is our ministry as the Church. This is what we have been called to do and this shelter is one more example of what can happen when we partner together to solve a need in our local communities."
The first-of-its-kind shelter in the county, is the result of a partnership between Catholic Charities Diocese of St. Petersburg and The Coalition for the Homeless of Pasco County.
Nine families at a time will be able to obtain the services including transportation, basic medical care, housing and employment assistance and financial counseling to help families return to self-sufficiency.
"Keeping families together is going to make the family stronger and they're going to have a better change at overcoming the obstacles together," said Husband.
Catholic Charities provides services to individuals from the start of life, to end of life and their shelters are truly a ministry of mercy taken up by many within the diocese.
"The success of Catholic Charities is really predicated upon the community support and our largest base of support are faith providers and the Diocese of St. Petersburg," said Husband, "The clients walk away knowing that the community loves them, and that's something that the Diocese offers. They bring that love and support into the shelters"
The shelter is not equipped with a full working kitchen and the biggest need at this time are prepared meals for the families. If you would like to support the shelter with meals, or in any other way visit https://www.ccdosp.org/pasco-family-shelter/ https://www.ccdosp.org/pasco-family-shelter/for more.