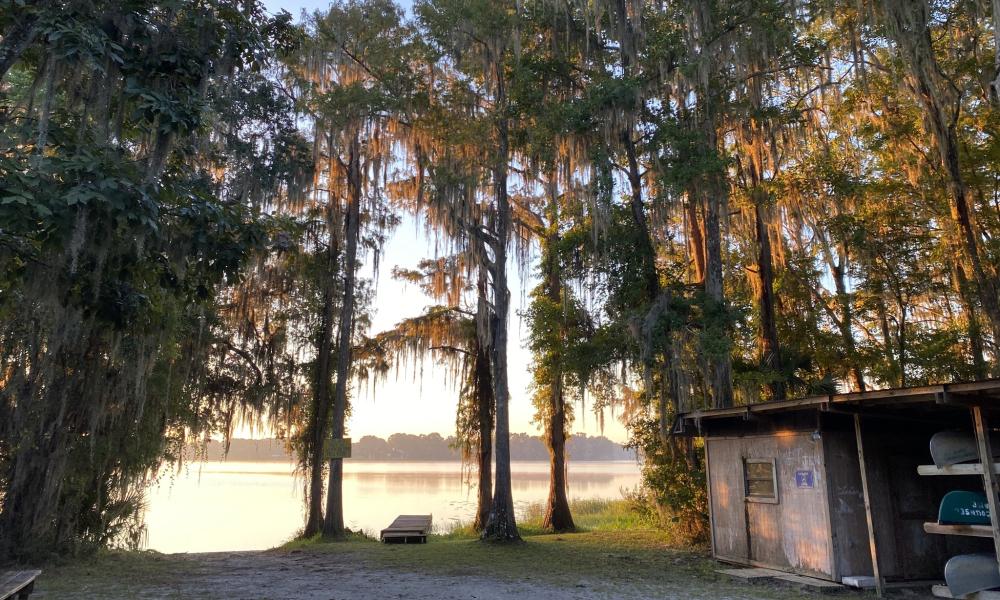 ---
Catholic Camp in Citrus County Has Impacted Generations of Families
October 18, 2022 | As campers, staff, alumni, and friends of Our Lady of Good Counsel Camp gathered on October 8, 2022, to celebrate the lakefront property's 75th anniversary, the crowd shared joyful memories as they relived a "typical day at camp."
Dan Allen, who took a leap of faith and sold his business to become a camp counselor 24 years ago, hasn't looked back since. Allen previously worked as Facility Manager at Good Counsel Camp. He met his wife at camp and their four children were born while he lived on the property and served in that role. He is currently a member of the Good Counsel Camp Alumni Association and two of his children were counselors this past summer, while another child, the youngest, attended as a camper.
These experiences have had a life-long impact on him and his family. He credits the camp's founder, the late Monsignor George W. Cummings, for forming a strong community at the camp that has resulted in close friendships and changed lives.
"Monsignor Cummings infused that camaraderie in us; his spirit still lives here. Not literally, but in a culture that he helped create that makes it very special for all of us," said Allen.
Our Lady of Good Counsel Camp was founded in 1947 by Monsignor Cummings, who led many young people to Christ through his educational and pastoral ministry.
Our Lady of Good Counsel Camp gives visitors the opportunity to disconnect from the world while enriching their faith. Mass and daily prayers are integrated in all camp and retreat experiences. Plus, the camp offers archery, boating, swimming and arts & crafts, sports activities, campfires, and hiking.
"I hope this camp keeps touching people's lives as much as it touched mine," said Diego De La Pena, camp counselor.
James Brennan, who went to camp in 1995, encourages all to go to this camp if they have the opportunity because it is a "safe place away that allows you to grow up and be in a good environment."