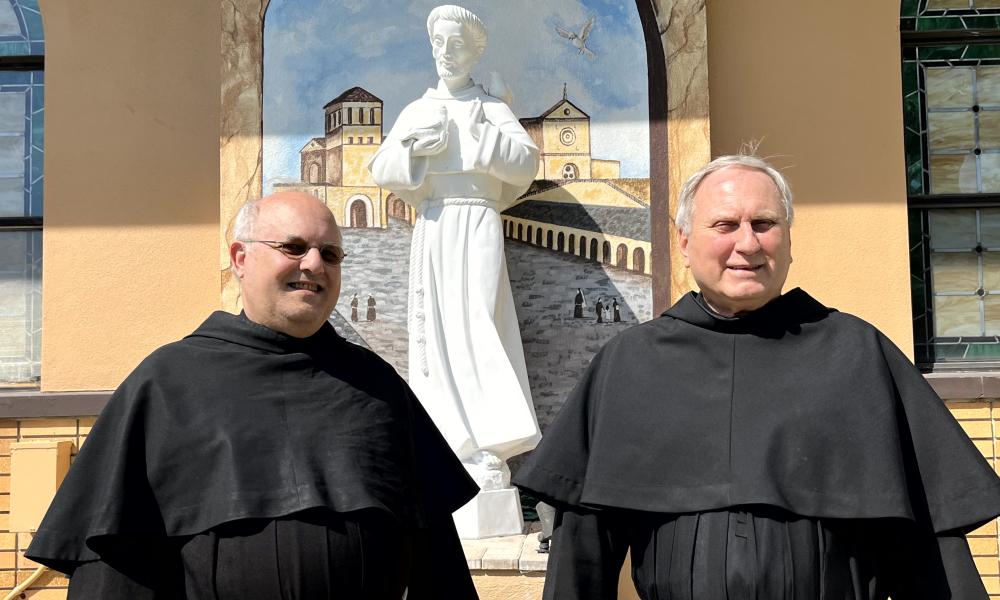 ---
Carrying on the Ministry of St. Francis
Caption: Father Alberto Bueno and Father Salvator Stefula, Franciscan Friars of the Third Order Regular (T.O.R.) stand before a statue of St. Francis of Assisi at St. Patrick Parish in Tampa.
---
October 3, 2022 | While most people associate the Feast of St. Francis of Assisi on October 4th with pet blessings, there is another significant way that communities around the world observe this memorial. Faithful followers of St. Francis traditionally gather on October 3rd each year to remember when his earthly journey ended and his eternal life began. This celebration is known as Transitus, a Latin word that means passage or crossing.
Father Salvator Stefula, a Franciscan Friar of the Third Order Regular (T.O.R.) stated, "During the Transitus, we call to mind not only the death of St. Francis, but we remember the death of all the friars of our community who have passed away."
During the end of his life, St. Francis was not afraid of what would come after his death. He chose to recognize death not as an end, but as a transition from one way of living to another.
Franciscans ritually remember the passing of St. Francis from this life as a reminder to renew their own commitment to follow Christ. A key part of the celebration is to read and reflect upon the Gospel passage that St. Francis asked his brothers to read aloud as they gathered at his death bed.
The brothers read the Gospel passage from the Mass of the Last Supper, Holy Thursday. This reading from the Gospel according to John (John 13:1-17), when Jesus washes the feet of his disciples, provides a glimpse into the life that St. Francis sought to live, and the life which Franciscans today continue to emulate.
Since the Franciscan religious orders were founded by St. Francis, members seek to follow their founder's example and honor his memory by how they dress as well. They are known for wearing plain, simple robes, also known as habits, with a hood, cord, and sandals. The color varies by community. The robes symbolize humility, meekness, and the down to earth nature of the order.
"It is the external sign of our internal commitment as Franciscans. It's a constant reminder to us of St. Francis," stated Father Stefula, who serves as pastor of St. Patrick Parish in Tampa.
Franciscans honor St. Francis in the way that they live and preach. While there are three orders of Friars, they each have a particular charism in which they carry out their ministry and for each place it can be different. They promote the spirit of St. Francis, which is the spirit of love, mercy, forgiveness, and community.
Father Stefula stated, "We try to form a sense of community within the parish so that they experience something different when they're in the parish of Franciscan ministry."
The charism of St. Francis can be lived out by all.
"Parishioners can carry out the ministry of St. Francis by doing what God has called them to do and by realizing that we are not all the same, but all of us can go out and live our life according to the Gospel.  St. Francis was known for doing what he was called to do," said Father Michael Jones, who is a Friar with the Order of Friars Minor (O.F.M.) and pastor of Sacred Heart Parish in Tampa.