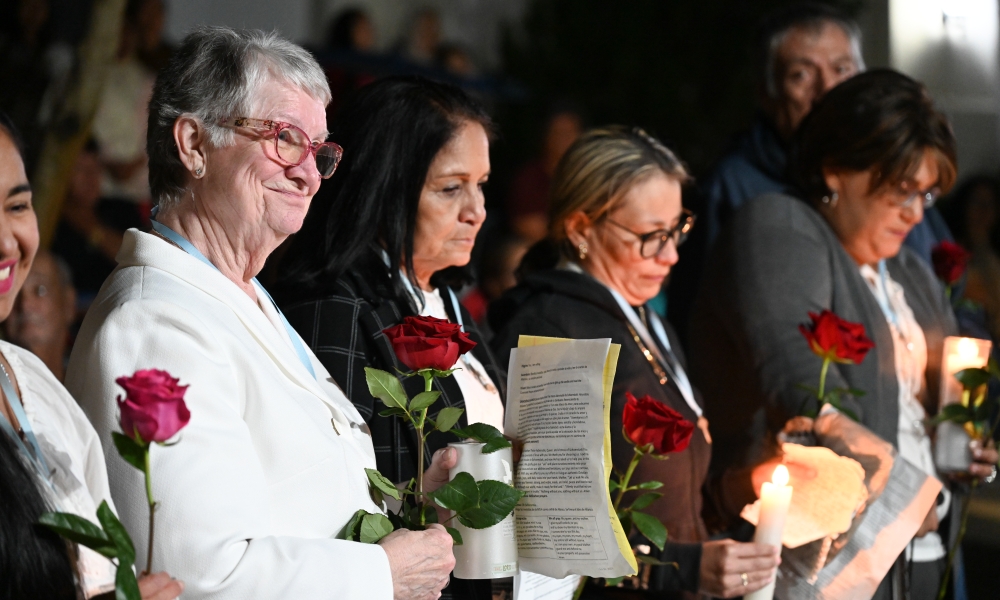 Georgia Pashley, a member of St. Rita Parish, at St. Cecelia Catholic Church in Clearwater, on October 18, 2023, during the covenant of love consecration. Photo by Keishla Espinal
---
Blessing of the New Marian Shrine
October 23, 2023 | On October 18, 2023 members of the Schoenstatt Tampa Bay community gathered at St. Cecelia Catholic Church, in Clearwater, for Mass and a blessing of the Tampa Bay Schoenstatt Wayside Shrine by Bishop Parkes.
Schoenstatt is a Catholic Apostolic movement that strives to live the Gospel of Jesus Christ after the example of the Blessed Mother. It is a movement of renewal, a place of grace, and a unique spirituality within the church.
About 193 shrines have been built in 31 countries on all continents, all exact replicas of the Original Shrine in Germany.
On July 19, 2023, the Diocese of St. Petersburg unveiled their very own Schoenstatt shrine.
"It is wonderful to see its completion and a beautiful addition here at St. Cecelia parish. I hope that you and your families will come often to pray, to pray together but also spend some quiet time by yourself in prayer to Our Lord and His Blessed Mother," said Bishop Parkes during the Mass and Blessing on October 18, 2023.
During the Mass and blessing, 24 pilgrims of Schoenstatt Tampa Bay consecrated themselves to the covenant of love. It is a six-week pilgrimage of watching videos, completing exercises, and preparing to be able to take part in consecration.
As all stood in front of the altar, Father Carlos Rojas, Pastor of St. Rita Parish, Dade City, asked the pilgrims, "Today when you seal your covenant of love with Mother Thrice Admirable, Queen and Victress of Schoenstatt you will become part of the covenant of love sealed by Mary with our founding father Joseph Kentenich and the founding generation of October 18, 1914. Therefore, I ask, 'Do you believe?'"
The covenant of love is an act of consecration (as individual or community) to Mary as the Mother Thrice Admirable (MTA) of Schoenstatt. It brings about a deeper relationship with Mary and gives one full participation in the stream of life and graces.
Georgia Pashley, a member of St. Rita Parish, was among those who consecrated themselves. "I was excited and filled with anticipation about the ceremony and offering my consecration prayer and capital of grace," said Pashley.
The Capital of Grace is where "in the covenant of love with Mary, we consciously bring her our prayers, sacrifices, and striving for sanctity. We so-to-say turn over the merits of these good works to the MTA for her mission in the service of Christ." (Schoenstatt Apostolic Movement)
"It was a very moving ceremony and evening," Pashley said.
Pashley is a recent convert, having been received into the Catholic Church and confirmed at the Easter Vigil this past April. Pashley wanted to establish a closer relationship with the Blessed Mother and saw this as the perfect opportunity.
"I found the entire process to be invigorating in learning about Father Kentenich and the Schoenstatt movement. It has brought me much closer to the Blessed Mother and has given me a sense of peace in my life," said Pashley. "My home shrine offers serenity and meditation on a daily basis."
Pashley recommends anyone who wishes to have a closer relationship with Mary, to go through the process.
"I recommend this process to anyone who wants to have a closer relationship with Mary and wants more peace and serenity in their life," said Pashley. "It has changed my life in the six weeks of the process. It has also given me relationships with my fellow pilgrims in this movement."
To see photos from the Mass and blessing, please click on the arrows below.