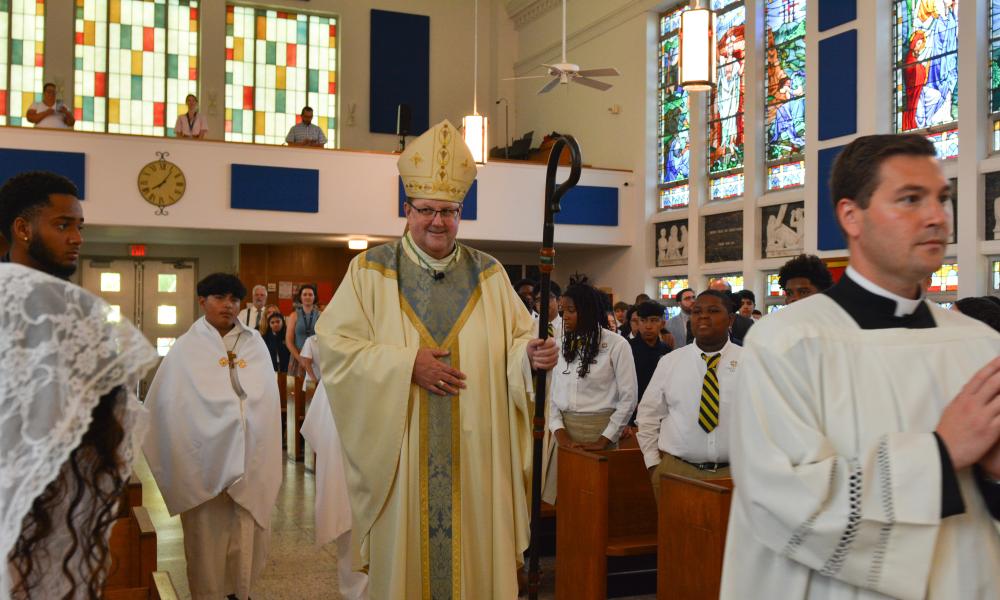 Bishop Parkes enters Mary Help of Christian Catholic Church for Mass with students from Cristo Rey Tampa Salesian High School on August 15th.
---
Bishop Parkes Joins Students for Mass at Cristo Rey
Bishop Parkes celebrated Mass for students, staff, families, and faculty of Cristo Rey Tampa Salesian High School on August 15th.
"As bishop, it is a joy and a blessing to be with you on this day, this beautiful day as we celebrate the Solemnity of the Assumption of the Blessed Virgin Mary," said Bishop Parkes at the start of his homily.
"It is beautiful for us to think that Mary, who was completely human as we are, is with her son, and with God and, and that ultimately, that's our destination, as well. That's our goal in life, is to go to heaven, and to help each other to get to heaven as well," said Bishop Parkes to the Mass goers that filled the church.
During the Mass, he blessed five students who volunteered to serve as Extraordinary Ministers of Holy Communion.
"In this ministry, you must be examples of Christian faith and conduct. You must strive to grow in holiness through this sacrament of unity and love. Remember that though many, we are One Body because we share the One Bread," said Bishop Parkes during the blessing, which included a sprinkling with holy water.
Cristo Rey is a college preparatory school and work study program sponsored by the Salesians of Don Bosco, that forms underserved young men and women to help them actively live faith, hope, and love.
Their last two graduating classes have had 100% of students accepted to college. Cristo Rey gives them opportunities they may not have otherwise.
All students take part in the Career Work-Study program. Students learn to balance demands of an advanced academic schedule and a workday. Just like other schools, they have sports and clubs. They offer transportation for students from different hubs. They partner with 50 local companies ranging from Tampa General to the Sheriff's Office to JP Morgan to engineering firms.
"We had a student who had an interest in dentistry and we partnered him with a local dentist. He received his dental hygienist certification. That student is now in a pre-med track. It is amazing to see the contributions these students are making to society with Cristo Rey as a stepping-stone," said Terrie A. Dodson-Caldevilla, Director of Communications & Public Relations at Cristo Rey Tampa Salesian High School & Corporate Work Study Program.
Two graduates from the class of 2023 attended the Mass with Bishop Parkes because they wanted to see old friends and faculty who have become like family.
"Cristo Rey prepared me for my future by showing me what a real family is and showing me people I can trust, and also by preparing me with the Corporate Work Study, how to be responsible, time management, and a lot of corporate skills that I can use for the future," said Jonathan Lopez, class of 2023.
The school also had an impact on his faith life.
"Before Cristo Rey, I wasn't that religious. I was Catholic, but I never really practiced. I always thought it was boring. But after coming to Cristo Rey and learning more about it, and going on retreats, actually leading some retreats, and being a core team member in the Campus Ministry, it really opened my eyes and it strengthened my faith," said Lopez.
His classmate and friend, Ana Castro agrees.
"It opened me up to new friendships and new faith life," said Castro, class of 2023. "I am definitely happy that I came here."
They will both be attending the University of North Florida in a few days.
To learn more, visit https://cristoreytampa.org/
To view photos from the Mass today, click on the arrows below.