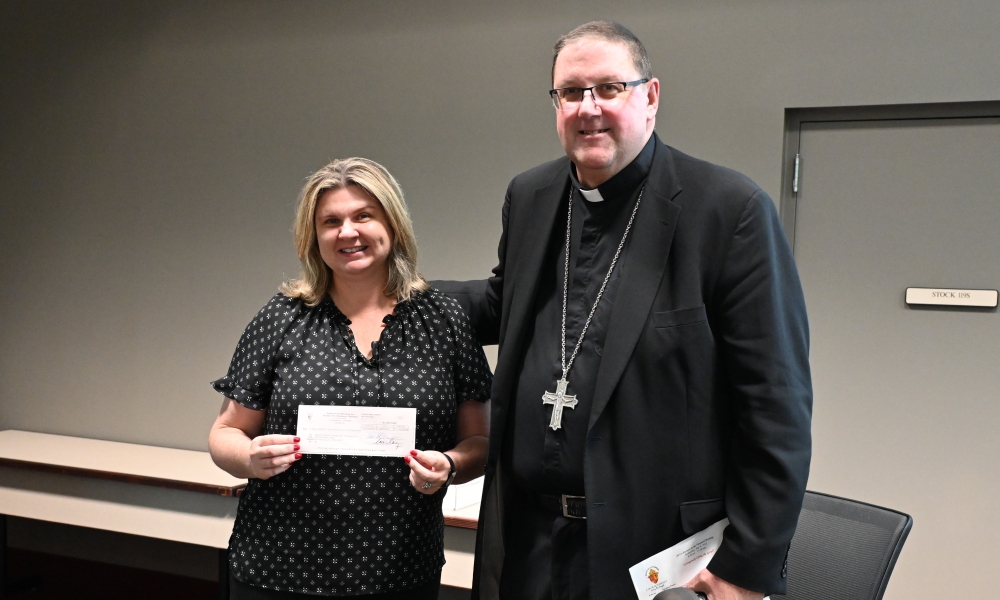 Bishop Gregory Parkes presented a check for $100,000 to Catholic Charities for hurricane assistance.
---
Bishop Gregory Parkes Provides $100,000 to Catholic Charities for Hurricane Relief
September 7, 2023 | Hurricane Idalia made landfall in Florida on August 30, 2023, primarily striking the northern part of Florida's west coast, but the effects were felt across the Diocese of St. Petersburg.
On September 6, 2023, Bishop Gregory Parkes presented Catholic Charities of the Diocese of St. Petersburg with a donation of $100,000 to help with local needs for those impacted by the storm. This was made possible by donations to the Diocese of St. Petersburg Disaster Relief Fund.
"There are those in our Diocese who have been affected greatly, especially in Citrus County. As a result, there are many of the faithful, as well as those who are not Catholic, that live up there who are in need," said Bishop Parkes during the check presentation ceremony at the Pastoral Center.
Catholic Charities will be able to use this money to assist anyone within the five-county diocesan area that has suffered some type of loss from Hurricane Idalia.
"What we've learned is the vast majority of the damage was due to flooding– due to storm surge. It's primarily in the coastal parts of Citrus, Hernando, and Pasco counties, damages in the millions. FEMA has authorized Citrus, Hernando, Pasco, and Pinellas counties for damage assistance," explained Lou Ricardo, Director of Marketing and Donor Relations at Catholic Charities.
The challenges people are facing can be multi-faceted.
"We like to think outside of the box and fill in the gaps where needed. It may be replacing beds for a family whose home was flooded, a hotel stay for a family while their home is undergoing repairs, a security deposit for someone forced to leave their apartment, or rent for someone whose place of employment is closed," said Maggie Rogers, Executive Director of Catholic Charities.
Catholic Charities is working to evaluate and understand what the greatest need is. They will be sending case managers out to select areas to go door-to-door and determine what needs they have and how they can be best supported. These funds will then be allocated as needed.  
"We can be there a year, year and a half later, helping people when FEMA and Red Cross have gone. We try to be there at the end, when others have left, and try to fill in the gaps for people who don't receive support from FEMA or Red Cross," added Ricardo.
The Diocese of St. Petersburg Disaster Relief Fund enables the Diocese of St. Petersburg to have funds on hand to distribute when a disaster strikes so there isn't a multi-month waiting period to provide assistance.
According to Bishop Parkes, "Several years ago, I had the idea of coming up with a Disaster Relief Fund collection, rather than just doing an individual collection every time that there's a storm or an earthquake or a fire. Rather than doing that, I decided we'll just take up a collection once a year for the Disaster Relief Fund. That way we have funds on hand which I can access immediately," he continued.
---
To contribute to the Diocese of St. Petersburg Disaster Relief Fund visit:
https://www.givecentral.org/dospdisasterrelief