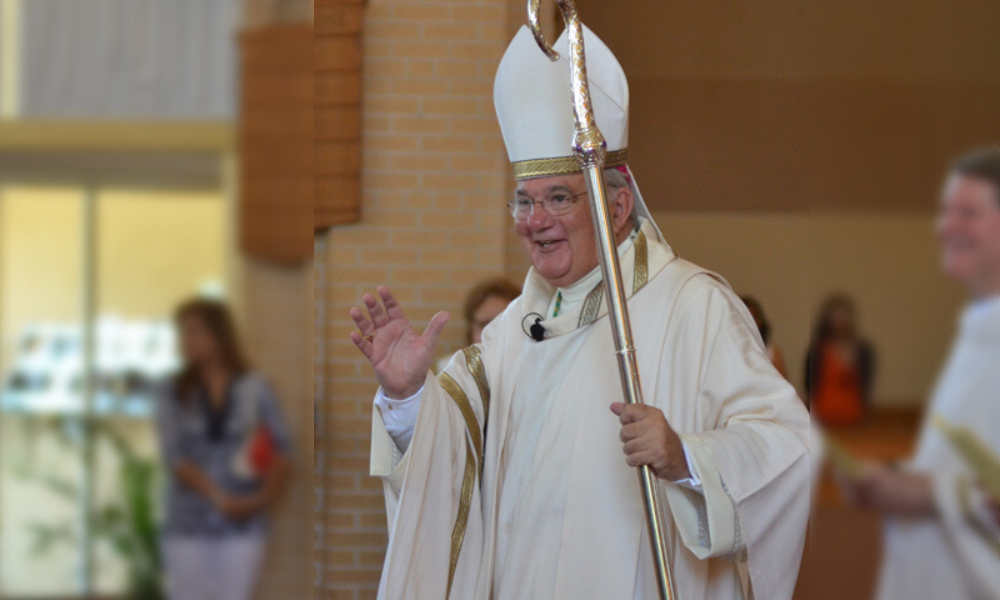 ---
Bishop Emeritus Lynch Honored for 25 Years of Compassion
In recognition of 25 years of episcopal ministry, including 20 as the leader of the Diocese of St. Petersburg, Catholic Extension hosted a reception on June 7, 2022, to celebrate Bishop Emeritus Robert Lynch receiving the Church Builders Award.
The award recognizes and honors those who have helped build up the church among the poor and marginalized, either pastorally or physically, through their partnership with Catholic Extension.
"Bishop Lynch is a shining example for those of us who try to build the Church. He has always realized that the people and each community is the Church, not just a building or a gathering place," said Father Jack Wall, President of Catholic Extension during the reception at the Bethany Center in Lutz, FL. "He went to every corner of the Diocese and united each family and community in faith."
Since 1905, Catholic Extension has worked in solidarity with people in America's poorest regions to build up vibrant and transformative Catholic faith communities. Through the generosity of individual donors, local and national foundations, they help poor, forgotten and isolated communities flourish.
"I certainly join with Catholic Extension in congratulating and honoring Bishop Robert Lynch for his 25 years of Episcopal Ministry," said Bishop Gregory Parkes in a video message. "He did so much to build up this Diocese, both physically and spiritually."
Bishop Lynch received tributes from Cardinal Blaise Cupich of the Archdiocese of Chicago and Bishop David Toups of the Diocese of Beaumont, Texas, who was one of the first priests ordained by Bishop Lynch 25 years ago.
"We are so blessed to be honoring Bishop Lynch and to be able to support the great mission of Catholic Extension," said Bishop Toups.
Catholic Extension answers Pope Francis' call to go out to America's peripheries – to encounter and to deeply know, the poor, the vulnerable and the faithful. Since its founding, Catholic Extension has raised and distributed more than $1.5 billion to faith communities that cannot support themselves. They serve 87 dioceses in need across 35 states.
"From its inception in 1968, this local Church has accomplished incredible things. And if I were forced to search for one word, to capture our life together, it would be generous," said Bishop Lynch in a video message. "I'm deeply honored to continue to play a role with the Catholic Extension."
---
Photo Caption: Bishop David Toups speaks about the contributions of Bishop Emeritus Robert Lynch during the Catholic Extension Award Ceremony on June 7, 2022.