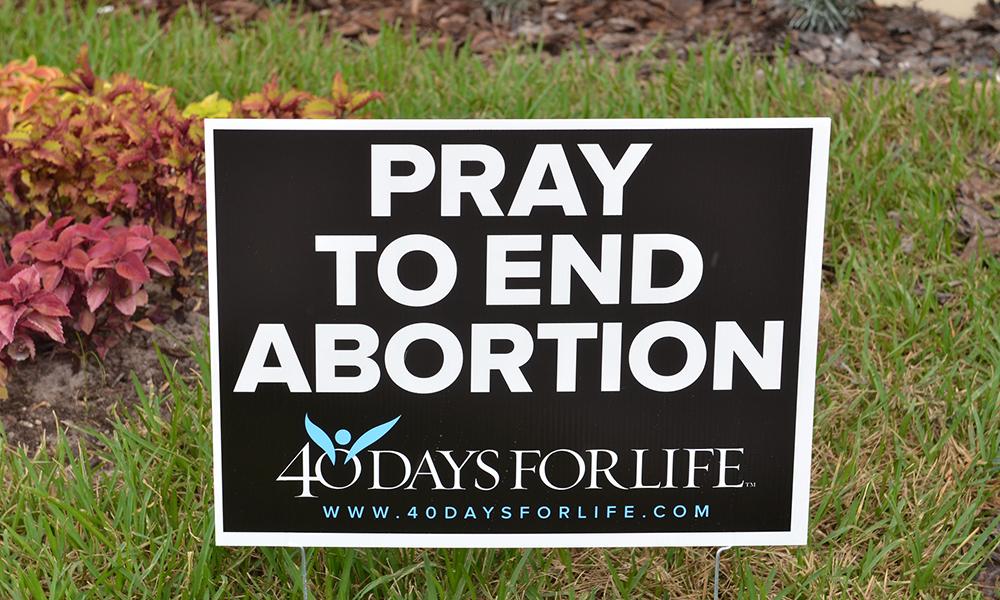 ---
Being a Voice for the Voiceless
Maggie Moren has been a volunteer with the 40 Days for Life campaign since 2008, when it first began. She has stood outside women's abortion facilities every year, praying peacefully for the end to abortion with other like-minded volunteers.
Maggie has been a witness to countless disheartening incidents during her time praying to protect the sanctity and validity of every human life, beginning at conception.
"I've been doing this from the get-go. I remember our first meeting, it was so hot that day," Maggie recalled. "I've seen, one time, a man who did not want his girlfriend or wife to have the abortion, and he came out of the clinic crying, and walked by me. I didn't know what to do other than just reach out to him and rub his back and tell him I was sorry. There are so many things I have seen. We've had people yell at us. At first, I used to get really upset, but with the help of the Holy Spirit I've learned that is just ignorance, and they need my prayers," said Maggie.
She doesn't feel that her volunteer efforts are anything special but it's right where God has called her to be.
"I guess this is why I'm here. I'm just a little nobody, but God puts all of us here to do something, and I guess this is my something to do right here in my immediate circle, in church, and in this diocese. I've met some wonderful, amazing people. It is a privilege to help," said Maggie, a member of the St. Raphael Parish community in St. Petersburg.
The 40 Days for Life pro-life campaign is a peaceful and prayerful outreach program. Taking place in the Diocese of St. Petersburg from September 22 through October 31, 2021, the 40 Days for Life effort has a threefold structure:
Prayer and Fasting
Peaceful Vigil
Community Outreach
"It is always important to pray for an end to abortion, but prayer at the Vigil outside of an abortion center takes on a special significance. There you are confronted with the magnitude of the harm that is caused by abortion. You can pray for the souls of the babies that will die, the mothers and other family members who will grieve and for the conversion of the abortion workers. 40 Days for Life is an ecumenical effort and all who desire an end to abortion and a greater respect for all human life are welcome," said Sabrina Burton Schultz, the Director of Life Ministry with the Diocese of Saint Petersburg.
In past years, the 40 Days for Life campaign has stretched across 64 nations and organized in over 8,000 communities. The campaign has been fruitful with more than 18,000 saved children, a 28% decrease in local abortions, and 5,000 individuals praying at one of three vigil sites since 2010 in Hillsborough County and 2008 in Pinellas County. According to Bishop Parkes, "post-abortive women (and men) are finding healing and forgiveness" through this imperative campaign that permits Christ to restore hearts and minds.   
Bishop Gregory Parkes will be leading the Kick-Off Vigil for the St. Petersburg Campaign at All Women's Health Center (4131 Central Avenue, St. Petersburg) on Tuesday, September 21, 2021, at 7:00 p.m. All are welcome to attend.
Get Involved
If you are interested in getting involved in the 40 Days for Life pro-life campaign and reside in the St. Petersburg area, you can find more information here. If you reside in the Clearwater area, you can find more information here. If you reside in the Tampa area, you can find more information here.
"Anyone interested in getting involved can call my office or any of the vigil coordinators who are listed on the website for each of our three locations. I would suggest that anyone who is hesitant should start by signing up for an hour with a friend. All we are really asking you to do is show up and pray. Most people realize that it is not nearly as intimidating as they imagined, and most people return again and again," said Sabrina.
If you or your parish would like to learn more on how you can be involved in this prayerful ministry, please contact Sabrina Burton Schultz in the Office of Life, Justice and Advocacy at the Diocese of St. Petersburg (her contact information can be found here).