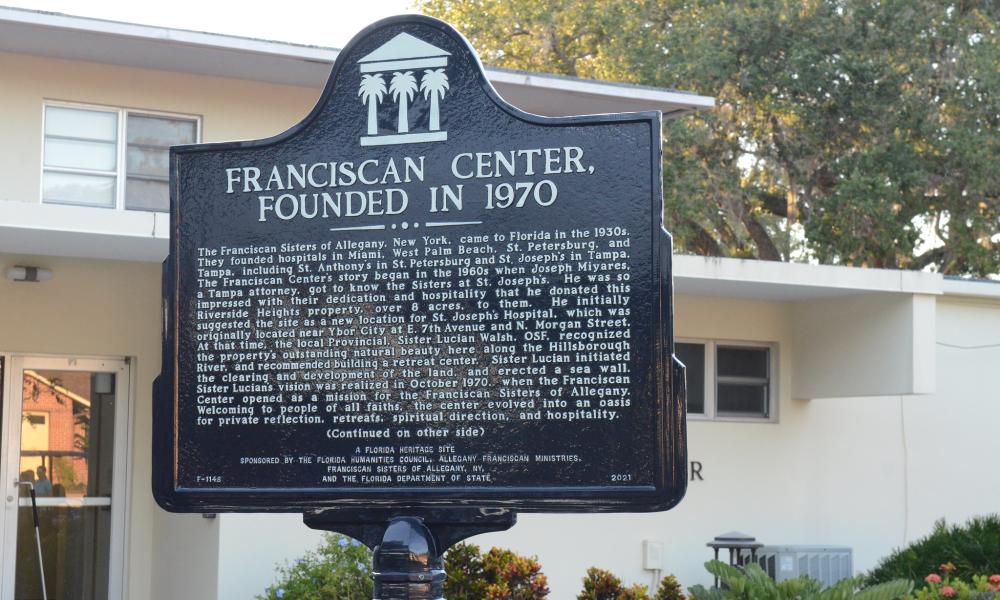 ---
A Beautiful Place
---
October 12, 2022 | Time spent at an oasis in the middle of the hustle and bustle of the city of Tampa, is where Sister Jo Marie Streva's life trajectory changed. At the time, she was a 30-year-old career woman being called to religious life and was discerning which order she would join.
"I was in a real quandary about these two congregations, and which might be the best fit for me," she said.
She found her answer after participating in a retreat the at the Franciscan Center, located on the Hillsborough River, just upriver from downtown Tampa.
"The Franciscan center is the heart of my vocation, because I was so lost in trying to discern where God was calling me until I came to that beautiful place that was so serene and full of peace, and the people there were so joyful and welcoming and hospitable," she said.
The center was founded in 1970 by the Franciscan Sisters of Allegany, New York after Joseph Miyares, a Tampa attorney of deep faith, was so impressed with their mission and hospitality he donated his 8-acre Riverside Heights property to the Sisters. His only stipulation was that it be used for spiritual, education and health purposes.
In the last 50 years, those leading the center have done just that, all the while living out the Franciscan charism of caring for creation and others. They've welcomed thousands of people like Sister Streva for private reflection, retreats and spiritual direction and have served many organizations throughout the city of Tampa and beyond.
"We're Catholic, and we make no bones about that. But Jesus always invited everyone in. You don't have to be Catholic to be involved with spiritual direction," said Sister Mary McNally, Franciscan Center board member.
One of the most impactful retreats held at the center has been Operation Restore, a program of healing for many military veterans and first responders suffering from PTSD or post-traumatic stress disorder. It has served over 400 first responders throughout the Tampa Bay area.
At a ceremony held October 7th, 2022, Tampa Mayor Jane Castor unveiled a historical marker designating the center as a Florida Heritage Site.
Speaking at the ceremony Mayor Castor thanked those who have helped with Operation Restore, "Thank you to anyone who has donated to that particular program, because it has changed men and women's lives throughout our city," she said.
As for Sister Streva, her life did change following the retreat she was invited to attend. She went on to join the Franciscan Sisters of Allegany, New York and eventually returned to Tampa to serve in ministry at the center for seven years. She currently serves on the Franciscan Center Board of directors, acting as liaison between the mother house and the center.
She says the historical recognition is a beautiful tribute to the number of sisters who have ministered there, the laity who have partnered with them and to the community that recognizes the significance of the Franciscan values.
"This gift of love that was given originally back in 1970, keeps on giving to those who are open and are willing to walk the journey," she said.