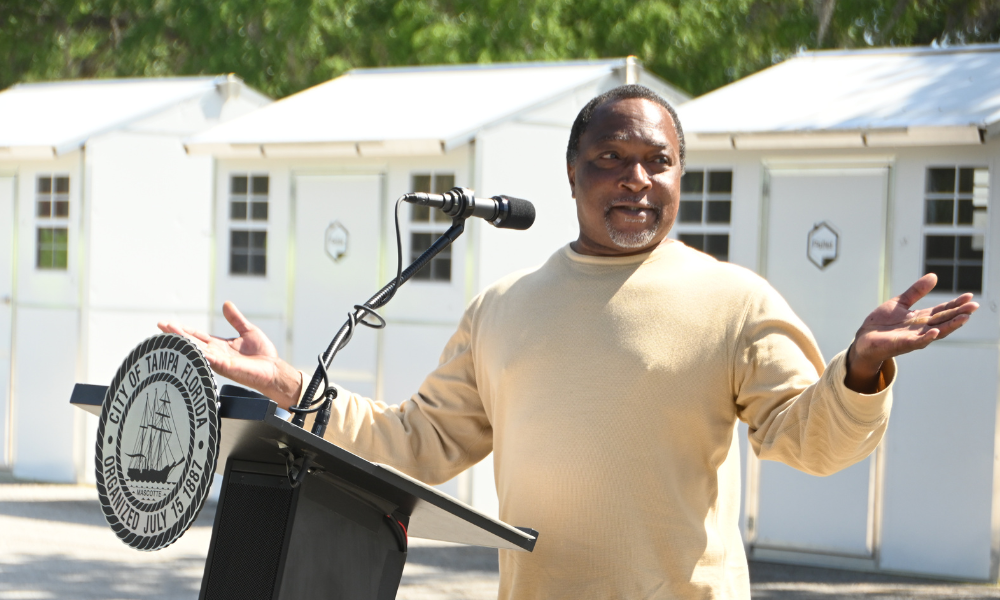 Carl Walker, photographed during the unveiling of 100 new cottages at Tampa Hope homeless shelter, April 20, 2023. Photo by Katie Camario.
---
100 New Cottages bring Hope to the Homeless
April 24, 2023 | After experiencing health complications, Carl Walker, says he fell on hard times and became homeless. A year later, his health is improving, and he has found a home. He credits his progress to Tampa Hope.
"If it wasn't for this program, I can seriously say that I don't know where I would be at today," he said. "I may still be out there laying in the streets, not knowing where the roof over my head was going to come from."
Tampa Hope is a homeless shelter operated by Catholic Charities of the Diocese of St. Petersburg in partnership with the city of Tampa. It provides housing and other programs for those in need. Since its launch in 2021, more than 640 individuals have been helped with housing at the shelter which consists of tents built on wooden platforms.
On April 20th, Bishop Gregory Parkes along with Tampa Mayor Jane Castor and Maggie Rogers, executive director of Catholic Charities, unveiled a major enhancement to the property with the addition of 100 new, freestanding structures known as Hope Cottages™.
"It's just incredible the amount of work that has been done here, and the number of lives that are being touched," said Bishop Parkes. "It's not just about the transformation of a piece of property. It's about transforming lives in our community."
For most, Tampa Hope is a steppingstone into permanent housing, some of which are operated by Catholic Charities.
"Tampa Hope has had an impact on addressing homelessness in the City of Tampa, and with continued hard work and our partnership with the city, we look forward to placing hundreds more individuals into their own homes," said Rogers.
The addition of the cottages will increase the shelter's capacity to a total of 225 beds. The 64 square foot structures will provide a bed, air conditioning and heating system, smoke and carbon monoxide detectors, fire extinguisher, power outlets, shelving, windows, and storage space. Additionally, the cottages can resist up to a Category 5 hurricane.
"Tampa Hope is making a real difference helping people get back on their feet, and these cottages are a very welcome addition," said Mayor Castor. "Our partnership with Catholic Charities reflects our commitment to addressing homelessness in a holistic way and we believe the addition of the Hope Cottages will be vital in further uplifting this vulnerable population."
As for Walker, although he has moved on from Tampa Hope to permanent housing, he says he's happy for those who will benefit from the addition of the cottages.
"With a tent you have a zipper, with these cottages you have a key. So now it's like being at home again," he said. "The difference these cottages is going to make is wonderful."
Walker's message to those who are experiencing homelessness is for them to contact Tampa Hope, "There is someone that cares. someone that loves you. You're not alone if you truly need help, want help, they're here for you."
Community members who want to join the effort and make a difference can do so by visiting https://www.ccdosp.org/tampa-hope/ or texting "tampahope" to 91999.
To view photos from the unveiling, click the arrow in the image below.